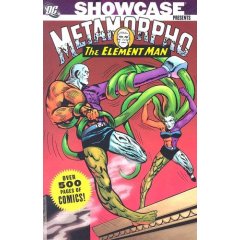 When I first heard that DC Comics was publishing SHOWCASE PRESENTS METAMORPHO: VOLUME 1 as one of the first entrants in their SHOWCASE line of affordable trade paperbacks, I thought, "Respect to them for going the obscure route, but I think I'll pass."
A few months later, I must apologize, humbly beg forgiveness and ask, "Oh, Metamorpho, how could I have ever doubted you?"
Aka the Element Man, Metamorpho is the unwitting superhero form of the former Rex Mason, a playboy adventurer-for-hire whose ill-fated trip into an Egyptian pyramid turned him into "the fab freak of 1000 and 1 changes." In less effusive terms, that means like a more imaginative Plastic Man for the periodic table crowd, as he's able to transform, shapeshift and – dare I say it? – metamorphose into any chemical naturally occuring in the human body. This calls for lots of Wonder Twin-esque proclamations of turning into various forms of largely bromine, carbon and flourine, sometimes as springs or slides but quite often as a gaseous hydrogen floating head. Whoever said comics weren't educational needs to be introduced to this walking chemistry set.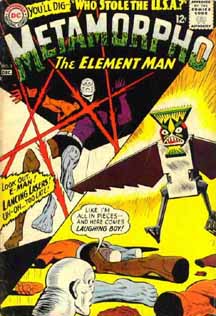 Mason's not really a fan of being Metamorpho – who looks like Mr. Clean has been skinned alive – because he's anxious to get into the lovely pants of the sexy, shapely Sapphire Stagg, his longtime gal pal and the spoiled daughter of heavily eyebrowed millionaire scientist Simon Stagg, a man who promises to find a cure for his would-be son-in-law, but really has no plans to because apparently he likes having someone hanging around to save the world. Rounding out this mismatched group is Java, a million-year-old caveman-cum-bodyguard for the Staggs. He'd love nothing more than to tear Sapph away from her "smooching" sessions with Mason, so Java's always aiming to make things more difficult on Mason's missions.
Such missions find Metamorpho up against a Indian totem-pole robot (see issue #3 cover, above), sharks, Mexican banditos (see issue #4 cover, below), aliens, an evil twin and generic costumed villains with names like Doc Dread and Stingaree. All 17 issues follow a distinct formula, but METAMORPHO stands out amidst the competition with bizarro setups and tongue-in-cheek dialogue. The scripts – almost all from the typewriter of Bob Haney – forever toe the line of parody. It's hard to take things seriously when Mason is continually dropping terms like "Daddio" and "shindig," which may be why the title never asks you to.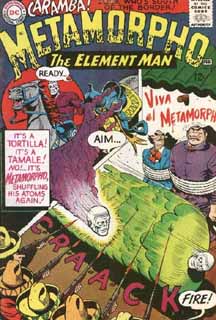 That said, for all its happy-go-lucky charm – this is a book that skips and whistles – the events of the final issue struck me as comparatively tragic, especially since the dreaded ax of cancellation never allowed the story to be properly resolved. To prevent the collection from ending on a downer, DC throws in three bonus stories from JUSTICE LEAGUE OF AMERICA and THE BRAVE AND THE BOLD (in addition to the two B&B issues that comprise Metamorpho's origin and lead off this Pop-Art parade). In the JLA story, Superman, Green Lantern and the others try to get Metamorpho to join their superhero clique, to no avail. But better matching Metamorpho's wackier ways are the B&B tales. One of them pairs him with the Metal Men to conquer renegade robots, while the other, "Alias the Bat-Hulk," has – as the title suggests – Batman hulk-out into a big, dumb, powerful clod not unlike a certain green-skinned Marvel hero. Metamorpho has a hand in righting the wrong (darn Joker gas), but it's primarily a Batman story, and an utterly outlandish one at that – one which had to make a young Frank Miller shake his head and think, "I've gotta do something about this some day."
SHOWCASE PRESENTS METAMORPHO: So camp, it roasts marshmallows. You bring the Hershey bars, I've already got the graham crackers. –Rod Lott