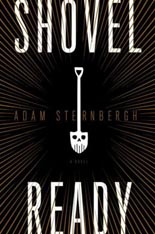 There's a sleek viciousness to Adam Sternbergh's dirty-bomb mash-up of Neal Stephenson and Lee Child that shows he isn't just playing footsie with pulp noir. His debut comes heavily hyped, and a more cynical reviewer might hem and haw about the novelist's day job as culture editor of The New York Times Magazine, wincing at the possibility of another highbrow wink at genre. And there are moments of coy allusion (characters named Savonarola and Milgram) that do flirt with allusion and pastiche, that deadly hint of IMPORTANT LITERARY SUBTEXT behind the generic facade.
But then you get some primo wiseass growling and realize, no, the novel's more a win than a wink. For example, the protagonist rants about the endless consumerizing of new technologies: "Once someone figures out how to do something … miraculous … it's only a matter of time before someone else soups it up so you can use it to suck a horse's cock."
Sternbergh is no tourist; he knows and clearly adores this territory, these characters, this voice. The violence is brutal, the prose not just punchy but brass-knuckled, the plot sinister and shadowy. SHOVEL READY is the real deal.
The novel introduces Spademan, a gun for hire in post-terrorist NYC. The trends toward income inequality have only gotten worse, and the ultrarich slip into medical beds and away from the real world, cavorting in expansive and expensive artificial worlds. Meanwhile, the grubby masses scrape and scavenge and serve. Sternbergh judiciously sketches his world — and its vision of "incremental apocalypse" — without hyperbole or extensive exposition. Yet his wormy Big Apple (and its alternate virtual reality) sets the hook for the likely series to follow; you'll want to explore here.
And you'll want the protagonist as a companion. Spademan comes off as pure nihilist, uninterested in why you want the deed done or how the target done you wrong: "I'm not your Father Confessor. Think of me more like a bullet. Just point." But, of course, there's a moral core in there somewhere, and the right (or wrong) case brings it to the fore. Spademan is contracted to dispatch the runaway daughter of a slick evangelist named Harrow. Before you can say "Philip Marlowe," Spademan's gotten suspicious about his client and that high-profile dad, an architect of a virtual heaven where the wealthy faithful retreat (and the foolish, less-well-off faithful end up serving all kinds of needs).
Sternbergh has quite a bit of fun grafting gritty noir and cyberpunk. But so did William Gibson (and more recently Richard Morgan). Don't expect dazzling reinvention. Our "hero" is a bit too perfect an avatar of the hardboiled anti-hero/knight, even when he literally becomes an avatar in virtual heaven, and the novel too often falls back into the readymade of convention, despite the innovative world-building.
But back to fun: SHOVEL READY has it in spades. And Sternbergh, starting strong, is only likely to get better. —Mike Reynolds