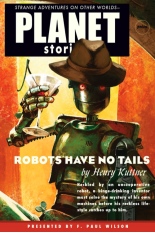 My introduction to Henry Kuttner's world of screwball science fiction and fantasy came when I was a kid and came across a story called "The Misguided Halo." It was about a novice angel who delivers a halo to a man living somewhere in middle America. He didn't deserve the damn thing. It was a heavenly screw-up. You can imagine how wearing a halo might disrupt your daily activities, but in the story, the only way to lose it would be to do something unspeakably awful, which the poor sap couldn't do because, well, he was wearing a halo.
Kuttner wrote serious SF as well, but I suspect his heart was always with the goofy stuff. The five stories in ROBOTS HAVE NO TAILS have respectable SF premises, but the characters … eh, not so much. Our hero is Galloway Gallegher, an untrained scientific genius who can create a machine for doing just about anything you can think of. His problem is that he can do it only when he's smashed out of his gourd and Gallegher+, his subconscious, takes over. When he sobers up again, he has no idea what the problem is the machine is supposed to address, who he built it for, or how it works.
Poor Gallegher is always waking up hung over and in trouble because he's accepted someone's money to solve a problem, but he has no recollection of anything he did while he was drunk. His grandfather from Maine is his drinking companion in a couple of the tales. In "The Proud Robot," Gallegher arises to find that he's built a mechanical man who is, to say the least, totally obnoxious. Joe the robot is narcissistic and arrogant, and would be happy to spend his days doing nothing but contemplating his own beauty.
He can even see through the outer layer of his stomach, like the Glass Cat of Oz, and is just as smug. He can't be controlled because Gallegher has no idea why he made him. Complicating the situation is the fact that dead bodies — all of them Gallegher at different ages — keep appearing in his backyard. When the cops haul one off, it soon disappears from the morgue. Our inventor is under suspicion for murdering himself. Repeatedly.
In "The World is Mine," Gallegher awakes to find three fuzzy Martians in his lab, hellbent on conquering the Earth. Just the three of them.
My favorite story of the set is the first one, "Time Locker," about a regular-looking gym locker, the outside of which exists in our dimension and the inside of which exists in another one. This means you can put something in the locker and it will shrink, change shape and finally disappear. Where does it go? Somewhere in time. When? That's the problem.
The stories were originally sold to the pulp ASTOUNDING SCIENCE FICTION in 1942 and began appearing the next year. Kuttner fought in the war, and the last tale was published in 1948. He died at the absurdly young age of 42 in 1958.
This volume — a Planet Stories reprint of the 1952 collection — comes with two introductions, one written in '52 by the author's wife, science fantasy writer C.L. Moore, and the other by the creator of the Repairman Jack novels, F. Paul Wilson. The latter loves these stories for their cleverness and their humor, but he isn't blind to their faults. "Are they some of the best SF ever written?" he asks. "Hell, no. The writing is slapdash at times, suffering from the polyadverbosis and digressions that would give Poe fits. The science is often suspect, the extrapolations occasionally sloppy. But none of that in any way diminishes the wacky inventiveness and entertainment value of these tales."
Yeah, me, too.
And the title? Moore writes that when a publisher asked Kuttner for a title for the collection, the author couldn't think of anything. "Call it anything you like," he responded. "Call it ROBOTS HAVE NO TAILS if you want to."
Good call. —Doug Bentin