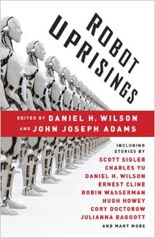 Since the popularity of his 2011 novel, ROBOPOCALYPSE, Daniel H. Wilson has become the contemporary expert on Robots Behaving Badly. Now he enlists the help of prolific and award-winning anthologist John Joseph Adams to present ROBOT UPRISINGS, a collection of stories about how our development of and dependency upon robots goes terribly wrong.
Thanks mostly to the surprising variety of represented authors — including a few nonfiction and up-and-coming writers mixed in with some well-known names — the result is not only cautionary, but wonderfully diverse and entertaining.
In his introduction, Wilson details how the fear of robots rising up against humans is as old as the concept of "mechanical men" itself, and has been a popular, perennial subject of countless stories, novels and movies. (Sadly, Wilson neglects mention of the contributions of Isaac Asimov and how Asimov's "Three Laws of Robotics" attempted to keep the behavior of such creations in check, and influenced sci-fi authors for many years.) The technological advancement of microprocessors has increased the presence of various "robots" in our lives, and so the threat of an uprising is more prevalent today than ever before.
This threat is the quiet driving force behind Charles Yu's "Cycles," a subtly unsettling story where a robot reflects upon its relationship with its flawed human owner in the early morning moments before the robot is programmed to wake the owner up.
"Human Intelligence," by Jeff Abbott, an author known more for his mystery and thriller works, is set in a post-uprising future where a former CIA agent is enlisted by the controlling robot Hive Mind to spy on a group of human rebels and their secret weapon. As the suspense builds, and alliances questioned, Abbott injects an unexpected twist sure to catch readers off guard.
Our contemporary fear of artificial food additives is given a different and frightening tweak by science-fiction veteran Alan Dean Foster in "Seasonings," where a lone biochemist insists that the food grown and processed by robots is full of substances intended to make humans passive to an eventual robot revolution.
Another particularly notable entry is "The Robot and the Baby," a rare fictional work by the late Stanford University professor John McCarthy, whose pioneering research in computer science hailed him as "the father of artificial intelligence." McCarthy's tale imagines the legal and social ramifications when robots are called upon to care for children of abusive human parents. While his narrative is sometimes awkward, McCarthy nonetheless expresses the concerns of this overlooked area and how the frustratingly bureaucratic and overly legalistic human responses only heighten the fears.
Most of the 17 stories were written exclusively for this collection, while others were culled from previous anthologies. Each story begins with a brief bio of the author and a listing of notable works.
ROBOT UPRISINGS is a worthy addition to any sci-fi fan's bookshelf and sure to cause lots of speculation and debate among readers. Regardless of your opinion of what Wilson feels is the inevitable threat, the stories in this collection are enough to make you think twice before you next converse with the unfailingly pleasant and cooperative voice of that computerized personal assistant on your smartphone. —Alan Cranis