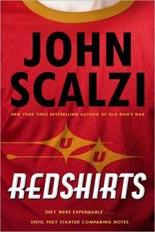 John Scalzi's REDSHIRTS is a TV show mash-up of the nonironic original series STAR TREK and the hilariously brilliant British sitcom RED DWARF, all tied up in a literally laugh-out-loud and damned thrilling comic adventure. His premise is both clever and insane, and his execution of the tale is perfectly done.
Ensign Andy Dahl is about to take his first post, as a xenobiologist aboard the Universal Union flagship Intrepid in the year 2456. He's excited to take his first adventures into space, and happy to be on board the UU's (always referred to as the Dub U) most famous ship. But soon after he arrives, he and some of his newfound friends on board discover something disturbing: Routinely, once a week or so, when there is an away mission, one of the more junior crew members ends up dying. (Yeah, now you get the redshirt reference.)
Death is an acceptable part of a mission, but the Intrepid's death rate is astronomical (sorry). Senior officers seem oblivious and even complaints to the Dub U fall on deaf ears. As a consequence, no one wants to go on away missions and start to actively avoid the captain and science officer in an effort to stay alive. Dahl ends up not having this chance as he is given a forced promotion to the bridge where he is in constant contact with these superior officers.
SPOILER ALERT … KIND OF: It's not really a spoiler, as the main conceit is explained a hundred pages in, but one of the crew members finally tumbles to what is going on: In the early 21st century, there was a television show, a space opera all about the trials and tribulations of a spaceship called the Intrepid. The scripts that were written for that show, filled with sloppy science and illogical plotting, are somehow affecting the reality of the alternate universe real-life Intrepid in the mid-25th century. The characters in the book, while real to themselves, are being manipulated by their fictional counterparts hundreds of years ago. They exist as extras in their own universe. END SPOILER.
Scalzi explains this all in a crystal clear way, allowing his characters to discover what's going on all while disbelieving the sheer nuttiness of it all. The efforts of the crew to avoid their own meaningless deaths — and attempts to go back into time to fix this issue once and for all — are hilariously outlined with a wry humor.
And there are more surprises up Scalzi's sleeve, as he ends the book with three different codas, written in first-person, second-person and third-person which ties up a few of the loose ends.
REDSHIRTS is funny and fun. Scalzi has a smooth, amiable style and writes believable dialogue. His characterization is, well, kind of special for this particular book. After all, most extras don't have complicated backstories. This is a novel you read for the clever premise and see how well the author handles the material, and Scalzi does a masterful job here. Highly recommended. —Mark Rose