Because time isn't always kind: economic reviews in a world full of waste!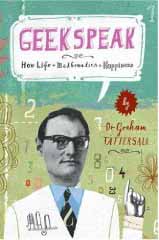 How fast does a fart travel? How many flies would it take to power your car? And how much does your head weigh? British engineer Dr. Graham Tattersall answers these and many more questions in GEEKSPEAK: HOW LIFE + MATHEMATICS = HAPPINESS, an accessible and entertaining nonfiction guide to making numbers work for you (if only to be the life of a party), even if numbers aren't your thing. For the most part, it's not off-puttingly brainy, yet it's never dumbed-down. Instead, it takes the smart, sensible approach of FREAKONOMICS, explaining how it's possible that we're all separated by no more than six degrees, to what the most effective words are for a personals ad. Tattersall's chapters are short and sweet, with a minimum of math and stick-figure drawings to illustrate his points. Toward the end, the questions get more ridiculous (what size wings would an angel need?) and hold little application to your world, but this is one of those science books for the non-scientist.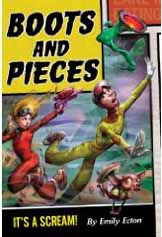 To put Emily Ecton's tween novel BOOTS AND PIECES to the ultimate test, I lent it to an even tougher critic than I: my 11-year-old son, who immediately agreed, lured in mainly by the cover phrase of "squishy swamp creature." Ecton's first-person story is about a boy, and girl and a chihuahua named Mr. Boots who investigate the supposed kid-eating monster. Unfortunately, his enthusiasm was short-lived, giving up on it almost halfway in. He's not one for open conversation, but I was able to get this much out of him: "I didn't like the characters," "It was just boring" and "I dunno." Like I said, he's tough. And maybe overly harsh, as the novel appears easy and breezy to my eyes, even if the showdown is over too quickly and simply.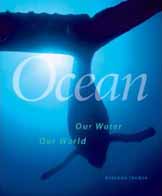 The beautiful opening spreads of SMITHSONIAN OCEAN: OUR WATER, OUR WORLD play out behind a quote from the late biologist and environmental activist Rachel Carson. It's no accident, as science writer Deborah Cramer's hefty book is not only about the wonders of the underwater world, but how we're destroying it. There's an odd dynamic with those waters, because as awe-inspiring as they are, they're chock full of things that can kill us! The photography within crisply captures the creatures that live below the water's surface, including some startling shots of microscopic life forms. I have to be honest: This is one of those coffee-table books where the pictures are so incredible, I find myself skipping over the text, except when I run across something that makes me think, "What the hell is that?"
Don't know why something called KING-SIZE SPIDER-MAN SUMMER SPECIAL #1 would come out almost in fall, but hey, I liked it. I knew I would when the contents page showed a comically stubby version of Spidey saying, "Got bit. Uncle died. Fight crime." This supposed, thicker-than-a-usual-issue one shot features four Spidey stories, two of them new (don't ask me which ones). First off, Mary Jane and just about every female character in the Marvel Universe tackle a troll, and Spider-Man teams up with The Falcon on the streets of Harlem. Shorter, sillier pieces featuring villains Modok and The Green Goblin seem more geared toward kids, but appreciated nonetheless. —Rod Lott