Once you've polished off THE NEW WEIRD, editors Ann and Jeff VanderMeer have another genre-defining anthology for you in STEAMPUNK. With such talents as Michael Chabon, Joe R. Lansdale and Michael Moorcock, the collection aims to present a snapshot of a speculative-fiction movement that marries the Victorian era with modern technology.
The merry, married VanderMeers talked to BOOKGASM about what steampunk – and STEAMPUNK, the book – is and is not (one thing it is: nicely discounted and autographed, if you preorder by May 15), and their very busy future.
BOOKGASM: While "steampunk" certainly is an easier genre to describe than "the new weird," it seems like there are so many subgenres and splinters from it that it's not as simple as a sentence would allow. But assuming you were limited to one sentence …
JEFF VANDERMEER: Yeah, that is tough because there have been many different "waves" of steampunk, and it seems to me now to be more of a subculture – take a look at things like the Steampunk Workshop, Brass Goggles, SteamPunk Magazine and a ton more – than an actual literary movement. I'd say steampunk has a more idealistic view of science, too.
ANN VANDERMEER: On the other hand, you could just call it fun fiction with airships and clockwork pseudo-Victorian devices in it.
BOOKGASM: Steampunk has been around for a while now, so what made the time ripe for an anthology? Is this the first anthology of its kind?
ANN VANDERMEER: Given the popularity of the steampunk culture, it's the perfect time for an anthology like this. The fiction is just one aspect of the culture, and one some "steampunks" are only discovering now.
JEFF VANDERMEER: It is the first anthology collecting the classic stories of the steampunk genre, I believe. Honestly, most of the anthology could've been put together a few years ago, but what would've always been an interesting project from a creative standpoint also now has a commercial viability to publishers.
BOOKGASM: If its roots were found in the likes of H.G. Wells and Jules Verne, how much of the steampunk being produced today really wears those influences on its sleeve?
JEFF VANDERMEER: Most of it! Except for something subversive like Joe R. Lansdale's story in our anthology, which takes all of that and turns it on its ear and makes it dangerous. I don't think there's any harm in the somewhat escapist nature of steampunk today, though.
ANN VANDERMEER: Some wonderful stories are being written using what's basically archaic science or abandoned paths of technology from our past. There's a kind of playfulness and fun to the stuff that's addictive. But a story like Paul Di Filippo's "Victoria," with its rampant sexual humor, goes well beyond anything Wells or Verne would have thought acceptable for civilized society.
BOOKGASM: Some members of the public may be unfamiliar with the term "steampunk," but no doubt have been exposed to it in one form or another without knowing it. Are there any mainstream vehicles – whether in books, movies or TV – that could be classified as such?
JEFF VANDERMEER: We have a series of essays on that very subject, using experts like Bill Baker, Jess Nevins and Rick Klaw.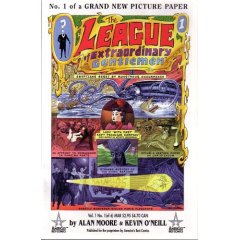 ANN VANDERMEER: You see a huge steampunk influence in comics – in particular, Alan Moore's LEAGUE OF EXTRAORDINARY GENTLEMEN, which includes characters like Captain Nemo. A lot of Miyazaki's anime work, like CASTLE IN THE SKY, have a steampunk influence. Even THE MUMMY movies with Brendan Frasier have a kind of steampunk sensibility, in a commercial way. It's also expanded to fashion and an entire DIY culture, so …
BOOKGASM: For those who might be weary of dipping their toe into the steampunk waters, what pieces from this collection do you recommend as starting points? And what about any works not included in your book?
ANN VANDERMEER: Depends on how you like your steampunk, in terms of our anthology: Do you want it gentle or do you want to dropped right in? If gentle, then Molly Brown's "The Selene Gardening Society," with its comedy of manners, is perfect. But if you want a completely whacked-out approach, Jay Lake's "The God-Clown Is Near" would be more your style.
JEFF VANDERMEER: Novels we couldn't include, of course, so I'd recommend K.W. Jeter's INFERNAL DEVICES, Tim Powers' THE ANUBIS GATES and Gibson/Sterling's THE DIFFERENCE ENGINE.
BOOKGASM: Neal Stephenson is among the contributors. How in the hell were you able to include him and still keep your page count below four digits?
ANN VANDERMEER: Amazingly enough, he had a kind of proto-steampunk story that's under 6,000 words in an anthology called FULL SPECTRUM awhile back. It's pretty fascinating because it reads like the missing link between steampunk and cyberpunk.
BOOKGASM: With this, THE NEW WEIRD and the upcoming LEVIATHAN, the two of you are keeping busy with anthologies. Is this hat trick on purpose or just luck in timing? Any further collections or other works on the horizon?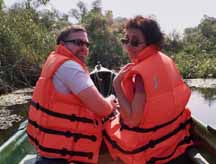 JEFF VANDERMEER: I've got a new Ambergris novel, a PREDATOR tie-in novel and a story collection out in the next year.
ANN VANDERMEER: I'm editing Weird Tales and co-editing our anthologies, which include FAST SHIPS/BLACK SAILS (pirates), LAST DRINK BIRD HEAD and THE LEONARDO VARIATIONS. When we're ever going to get to sleep again, I don't know.
BOOKGASM: Dispel the myth that an anthologist doesn't do any actual work. What challenges are inherent in putting together books like these?
JEFF VANDERMEER: NEW WEIRD is a good example of what careful editing can accomplish. We wanted to produce an anthology that could be read by both general readers and those who wanted to study NW in universities. We also wanted to provide all of the context about the NW and include some nonfiction disagreeing with our own definition of the term, so that the book would be a discussion of the term and its validity or non-validity. We accomplished all of those things by having four sections after the introduction: "Stimuli" (stories that roughly correspond to the types of influences that New Weird writers, we believe, would've been exposed to), "Evidence" (actual NW stories), "Symposium" (discussion of NW from various perspectives) and "Laboratory" (where non-NW writers "create" their idea of a NW story). This kind of structure takes a lot of thought.
ANN VANDERMEER: But selecting the stories also takes a lot of thought. We always spend many dozens and dozens of hours making sure we have the right mix of stories and that they're in the right order, whether it's New Weird or steampunk. You don't want three really long stories back-to-back or three really depressing stories. At the same time, you can't have a laugh-out-loud story right next to something that's deadly serious – the reader who does read the antho right through will have a problem with the severe shift in tone. So we do a lot of rearranging and testing.
JEFF VANDERMEER: Not to mention then copy editing, research, correspondence, etc. It's a weird mix of creative and administrative work.
ANN VANDERMEER: Although you can make money on anthologies, we only do anthologies we think have some creative angle that appeals to our sense of adventure or our sense of art. That's the only way it's worthwhile in such an uncertain marketplace, and it's also, we believe, the only way to do a truly outstanding anthology. –Rod Lott
OTHER RECENT BOOKGASM AUTHOR INTERVIEWS:
• Q&A with SCARFACE's Joshua Jabcuga
• Q&A with SKINTASTIC VIDEO GUIDE's Mr. Skin
• Q&A with THE WHEEL OF DARKNESS' Douglas Preston
OTHER BOOKGASM REVIEWS OF THESE AUTHORS:
• THE NEW WEIRD edited by Ann and Jeff VanderMeer