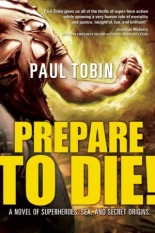 After years of providing stories for Marvel, DC, Dark Horse and other comics publishers, author Paul Tobin brings his knowledge and insight of superheroes to his debut novel, PREPARE TO DIE!. It's slightly uneven, but full of exciting and inventive action, while emphasizing how those humans transformed into heroes can't help but remain human at their core.
Steve Clarke is Reaver, a super-strong, super-fast hero whose most notable power is not his ability to heal himself, but rather a punch that literally removes years off his victim's life — resulting in Reaver's famous catchphrase, "Take some time off!"
For years, Reaver's archenemies have been Octagon and his team of super-villains known as The Eleventh Hour. Then, at the end of a near-epic battle, Octagon captures Reaver and, with a laser pistol pointed at Reaver's head, delivers the classic line, "Prepare to die!"
Much to Octagon's surprise, Reaver agrees, but requests some time to put his personal affairs in order. He is given two weeks, and immediately returns to his home town of Greenway, Ore., where he hopes to reconnect with Adele Layton, the girl he's loved all his life, and accomplish a list of other tasks before he meets with Octagon at the appointed date and is put to death.
Tobin's novel is structured as long chapters of first-person narration, with a focus that shifts back to when a freak accident transformed Steve Clarke and some of his friends into superheroes; the early, formative years of Reaver and his super friends; and then forward to the present as Steve hastily constructs and carries out his list of personal tasks to perform before meeting his demise. It's a generally effective structure, but sometimes loses its way in the midst of various memories and observations.
 
Tobin's inventive skills are, not surprisingly, most vividly on display in the numerous characters of good and evil who populate the novel. Their various powers are among the most imaginative you're ever likely to encounter, and the frequent battle scenes and action sequences are presented with near-cinematic detail and accuracy. Tobin also knows how much comic-book readers love origin stories, and thus provides starts for Reaver and the others.
 
Through it all, however, the author never lets us forget that these superheroes are, at the end of the day, still the humans they once were. This is first emphasized, of course, when Reaver decides he's had enough of being a do-gooder and takes Octagon up on his offer to prepare for his end.
Steve/Reaver's to-do list, as another example, is not filled with grandiose tasks that will forever transform the entire world, but rather reflects the guilt and regrets he's carried through his seemingly heroic career. Finally, Tobin never misses an opportunity to demonstrate how this is probably the horniest bunch of super beings we've ever met.
 
Tobin's overarching theme of the true purpose of heroes and villains almost gets lost in the cascade of events and revelations that dominate the final chapters. Yet it is manages to be what we ultimately carry with us as the story concludes.
 
PREPARE TO DIE! will obviously appeal to comics fans and those who grew up loving such four-color adventures. Those with only a passing knowledge of comics or superheroes will also find plenty of entertaining moments mixed with some unexpectedly insightful and moving moments as well.
 
It will be interesting to see if Tobin has more to tell us about the inner lives of these pop-culture characters we so often long to emulate, but really know so little about. —Alan Cranis