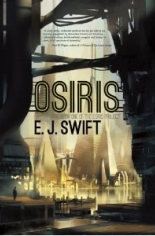 An author can do her job too well. E.J. Swift's debut novel, OSIRIS, explores the ocean-bound, meticulously engineered future city of its title through the eyes of two characters, Adelaide and Vikram.
Vikram is an orphan, ex-con and political activist from the terribly inhumane slums that fill the western part of the city, while Adelaide is a spoiled socialite and heiress — a very convincing one. So much so that, at times, I genuinely couldn't stand her and desperately wanted to be out of her head.
But maybe that was a good thing?
For the most part, the novel is extremely engaging. Swift has created a city that's a universe unto itself; Osiris floats through a post-apocalyptic world with no land in sight, its inhabitants trapped within by oppression, by luxury, by superstition and by politics. It's actually those politics that are responsible for the most exciting parts of the book, paradoxical as that may sound.
Sure there's exciting action — where people shoot and get stabbed and fall off buildings and stuff blows up good! — but everything in Osiris, and in OSIRIS, is saturated with the effects of extreme social stratification, and it plays out in such visceral ways that it's never dull.
When there's a scene in the city's ruling council, it isn't, for example, the bland politics of THE PHANTOM MENACE, but rather every decision feels like it has a real and genuine personal weight — a weight that those privileged enough to run everything neither feel nor understand.
But see, that brings us back to our two protagonists, and the problem with Adelaide. She is an extremely selfish and needlessly stubborn person, even to the other pampered people on her side of the city, and I never felt that the book gave a substantial reason for why we should actually, you know, care about her.
But I did care: I cared when her stubbornness affected Vikram's humanitarian goals, and I cared when her desire to hurt/anger/inconvenience her powerful family happened to make her do good things. I cared enough to be wrapped up in her chapters, but I sometimes found that in itself so frustrating: She never quite got the kind of hook that's necessary for an unlikable character to be compelling, and it took too long for her to evolve into someone genuinely likable.
(Oh, also Adelaide has that sci-fi/fantasy Very Special Girl bright red hair thing that I've grown tired of. It's a very small nitpick, and one that probably only bothers me.)
That's a lot of complaining, but Adelaide wouldn't have bugged me so much if she hadn't been in a book that really grabbed my attention and mostly held it. It rather reminds me of my biggest problem with FRANKENSTEIN: namely, that after the reader has seen the world through the monster's eyes, it's just annoying to get back into the head of the narcissistic and oblivious title character. But hey, there are much worse books to share flaws with.
Besides, this is the first novel in a series, and one definitely gets the feeling that it might end up being a sort of origin story for Adelaide, showing us who she was before she becomes … well, I don't quite know yet. The ending is very abrupt, but in a way that left me feeling confident that Swift knew where she was going to go next, and why.
What's more, the world-building here is very strong (albeit a little heavy on the "punny names for regular stuff" thing) and I was left with, if not the strongest interest in Adelaide herself, an intense desire to know what will eventually happen to the city itself and the people in it. —Elijah Kinch Spector