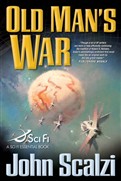 Deemed one of the Sci Fi Channel's Essential books, John Scalzi's debut novel OLD MAN'S WAR is a slice of military fiction so fresh and easy to swallow that I'd recommend it even to people who normally shy away from the genre … like me.
The titular OLD MAN is John Perry, who spends his 75th birthday visiting the grave of his beloved wife and then joining the army, namely the Colonial Defense Forces, for which he will serve a 10-year term. In space. Back home – to where he can never return – he will be considered legally dead, so he says his good-byes to his son and grandson and takes one giant leap into the rest of his life. The book is divided into three parts, the first being Perry's voyage along with the other "old farts" to their planetary destination. En route, each enlistee's consciousness is transferred into a green-hued clone of him- or herself, albeit 50 years younger to make for a stronger soldier. This results in lots of strings-free sex among the troops rediscovering the joys of young-people erections and orgasms. They're also implanted with their own personal BrainPal, whom Perry names Asshole.
Part two is the training phase, in which Perry impresses his FULL METAL JACKET-esque Master Sergeant and becomes squad leader. The final act is where the conflict and fighting begin, also setting up the book's immediate sequel, THE GHOST BRIGADES, due in March. Being the most conventional section, this part is also the least interesting.
Scalzi wisely made WAR told from Perry's point of view. So comfortable is Scalzi in his protagonist's shoes and so strong a character is he, that if not for the whole outer-space angle, you could mistake this for an autobiography. Perry's thoughts, feelings and actions all feel appropriate and very real; seeing all that butt up against the high-tech interstellar warfare is akin to the look on my grandmother's face when tackled with the task of operating a VCR. Military science fiction is a genre rife with carbon copies, but OLD MAN'S WAR succeeds by putting a twist on it via a poignant angle fountain-of-youth angle. Plus, with the baby boomers quickly becoming senior citizens, could it be timelier? –Rod Lott
Buy it at Amazon.