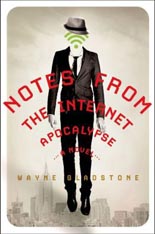 It's no surprise that humor columnist and frequent contributor to Cracked.com Wayne Gladstone chose satire as the vehicle for his first novel, NOTES FROM THE INTERNET APOCALYPSE. What's unexpected is that he imagines a world suddenly without his main publishing outlet, and something we've all grown hopelessly addicted to: the Internet.
The disappearance of the 'net, as told by first-person narrator Gladstone (the author's byline in many of his articles and essays) came quietly and without warning. Everybody woke up one morning … and the Internet was simply not there. No combination of keystrokes — or other corrective action — could bring it back.
This meant that Gladstone, a former law school student who worked for the New York Workers' Compensation Board since his girlfriend got pregnant, was suddenly out of a job. So he decides to record his impressions of the World Without the Web the old-school way: writing it all down on in a journal.
Before long, he is joined by his friend Tobey, a West Coast cultural blogger. They then meet Oz, a young Australian girl who supported herself selling videos of herself in the shower over the 'net. The three suddenly unemployed friends follow a rumor that someone somewhere in New York is picking up an Internet signal, so they set off to find and, they hope, restore the 'net to a desperate, unconnected world. Things get ugly for Gladstone, however, when outside sources accuse him of knowing where the Internet is and how to fix it.
 
The novel works best when depicting an unexpectedly offline world. People wander the streets speaking to themselves in no more than 140 characters. Other "Internet Zombies" gather in groups and force cats to constantly perform stupid tricks. Requests for casual encounters and offers of various services are posted on every available public space. The world economy threatens to disintegrate, and rampant pornography floods newsstands and nightclubs everywhere.
 
In the midst of all this, the first to accuse Gladstone of hoarding secret knowledge of the web is a former librarian with psychic powers who calls himself Jeeves and charges people for quick answers to any question from his booth in Central Park.
 
Unfortunately, the author's imagination is less effective when he attempts a surreal yet seriously philosophical resolution to his story. The shift is jarring and forces Gladstone to resort to strained exposition to explain his otherwise simple lesson about our lost ability to communicate effectively with each other. The novel's ending is obviously intended to be uplifting, but instead feels rushed and leaves far too many plot points unresolved.
 
Still, it's the gleefully biting satire you remember most as Gladstone reveals how dependent we've all unwittingly become to this constant source of news, entertainment, information and what feels like communication and expression. So it's easy to forgive this neophyte novelist's lack of fictional skills after so many pointed pokes and laughs at ourselves.
 
The author's website and promotional interviews hint that this debut is the first of a planned trilogy. If so, we've not seen the last of Gladstone and his quest to find and restore the Internet, while reminding us what real human interaction requires.
 
For the moment, let's admit it:  The world suddenly without the Internet is a scary thought. For one thing, it means you'd be without your daily BOOKGASM fix. The horror! —Alan Cranis