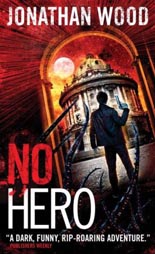 Creepy twin girls, a secret government agency, monsters, aliens, a sword-wielding redhead and the magic wars of the 1970s. Have I got your attention yet? If so, you are about to enter the world of NO HERO, with a tagline of "What would Kurt Russell do?" An amalgam of science fiction and cop drama, this debut novel from Jonathan Wood is sure to please the BOOKGASM crowd, and with its eye-catching cover, it only gets weirder. And it's now in mass-market paperback from Titan Books.
Arthur Wallace, an Oxford police detective on the trail of a serial killer, stumbles into a world he never knew existed: the agency referred to as only MI37. Think of it as a literary TORCHWOOD, minus all the sex and DOCTOR WHO references. The killer he has been tracking down all these months is actually a member of the group, whose members have been fighting the tentacled monsters known as the Progeny.
If, I were you, reading this review, I would have already placed my order for this overload of awesome. Wood seems to have been raised on a steady diet of 2000 AD and other comics, since this book is brimming with truly bat-shit-insane moments. It has a bit of a rough start as Wood jumps around time frames, but once all the dust settles, NO HERO moves into a solid ride.
It's packed with what seems like every type of bizarre figure he could put into one team. Clyde is the brains, so to speak, who takes his power from sticking batteries in his mouth. Then there is the sword-wielding redhead Kayla, whose first meeting with Arthur comes to a point. The main plot deals with the Progeny, who are like the first troops on the beach, while the bigger invasion is just about to hit.
There are plenty of twists and turns, with mechanical cats, a giant double-cross and one strange sect of monks. At points, the story reads like a fever dream of action, in a good way. Of course, this is the type of novel which would slip through the cracks: exactly the type in which we revel. —Bruce Grossman