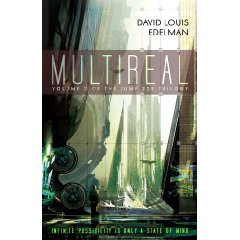 When David Louis Edelman stormed the science fiction scene in 2006 with INFOQUAKE, he created a one-man subgenre: speculative business-management fiction. On that premise, it could have been the most boring novel ever published. At its heart, it was a story about an aspiring businessman's effort to create a product that would make him the most successful businessman ever, like every crappy biography about Donald Trump or Bill Gates or whoever.
But because of rigorous world-building, meticulous characterization and the way-awesome future technology he created, Edelman wrote a book in which every chance he took paid off handsomely. It was already pegged as part of the JUMP 225 trilogy, so sequels were a given. Enter MULTIREAL.
This second book continues the story of Natch, a gifted programmer and entrepreneur (with less than selfless motives) who aims to be at the top of a world run by the business of bio/logics — programs that interface with the human body to make those who can afford them better, faster, stronger than they were before.
 
The story picks up roughly at the end of INFOQUAKE, as Natch's corporation, or "fiefcorp," has introduced Possibilities, a program that people can use to game the laws of probability and get the best result out of any situation. Of course, the government bad guys from the first book really, really don't want Natch to succeed, and from there, things get crazy. How crazy? You know, backstabbing, murder, heartfelt speeches, agonized resignations, backroom scheming — that kind of thing.
 
INFOQUAKE's strengths have carried over to its sequel, as Natch's lieutenants are further fleshed out and their characters are tested by the various hurdles thrown up before them. The bad guys have motivations for being bad, although their motivations, like Natch's, aren't exactly wholesome. Edelman's prose succeeds despite the fact that it's loaded with the jargon that comes with the extremely complex world that he's created, and people who have read the first book won't have trouble with it.
Newcomers might be wise to check out the JUMP 225 website and glance through the various appendices, the historical timeline and the glossary before picking up MULTIREAL sans INFOQUAKE, but that's the only caveat for readers who like dense, tech-heavy science fiction.
 
People get accustomed to new ideas by leveraging the notion of things we've seen before, like saying this work is a cross between WALL STREET and NEUROMANCER/SNOW CRASH/BLADE RUNNER. That's nice, I guess, but it doesn't do justice to Edelman's creation. With INFOQUAKE and MULTIREAL, he's got new archetypes aplenty, and he doesn't need old tropes to slow him down. —Ryun Patterson
OTHER BOOKGASM REVIEWS OF THIS AUTHOR:
• INFOQUAKE by David Louis Edelman