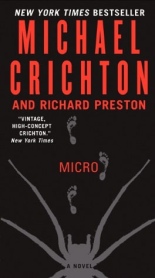 According to his publisher, Michael Crichton had completed a third of the novel MICRO at the time of his death in 2008. Science writer Richard Preston (THE HOT ZONE) was hired to complete it, based upon notes and outlines discovered among Crichton's papers. The result, now out in paperback, boasts several suspenseful scenes and moments of genuine horror, but falls way short of Crichton's finer works.
Eight graduate students — all studying insects, plants and other elements of the natural world — are visited by a recruiter from Nanigen MicroTechnologies, a startup corporation manufacturing microrobotics used to explore nature and assist in the production of cutting-edge pharmaceutics.
The recruiters, lead by the brother of one of the graduate students, includes Vincent "Vin" Drake, Nanigen's CEO, who tempts the students with Nanigen's beautiful Hawaiian location — a far cry from their East Coast university and its harsh winters — and the promise of quick, easy money. Not surprisingly, the grad students agree to take an expenses-paid field trip to visit its facilities.
 
Shortly before leaving for Hawaii, the lead recruiter sends his brother a cryptic text message and is later reported dead from a mysterious boating accident. Then, as the students explore the Nanigen laboratories, they stumble upon the corporation's hidden secret. Before they can escape, Drake traps them and miniaturizes them in the machine used to manufacture his microbots.
 
The miniaturized students are then left stranded in the Hawaiian rainforest. As they struggle to find their way back to the lab and return to normal size, they suddenly must apply their knowledge of nature and what little survival skills they have to stay alive among the constant threat of now giant insects, birds and other predators that were previously the subjects of their studies.
 
The idea of miniaturization is by no means new to science fiction. It can be traced back as far as Jonathan Swift's GULLIVER'S TRAVELS, and includes Richard Matheson's THE INCREDIBLE SHRINKING MAN, Isaac Asimov's adaptation of FANTASTIC VOYAGE and other similar works.
 
Yet Crichton saw the theme of how miniaturization transforms minor irritants into life-threatening menaces as a way to demonstrate how little we truly know about the natural world — as evidenced by his unfinished introduction to the novel. So it comes as no surprise that the most effective moments are when Crichton applies his well-honed skills at blending scientific fact into fictional action in scenes where butterflies, beetles and, of course, spiders become the most horrifying monsters imaginable.
Sadly, the weakest components of the novel are its characters. After the opening chapters — where Crichton's skills are most apparent — the characters become mostly stick figures. This is especially true of the graduate students, whose dialogue, even in the most threatening moments, sounds like quotes from their research projects. Their few fleeting moments of introspection are awkward and puerile. Ironically, it's the antagonists, Drake and his various minions, who benefit most from the minimal characterizations and are far more believable than the protagonists.
 
Though reminiscent at times of earlier works like JURASSIC PARK, MICRO can only be recommended to the most die-hard Crichton fans. But even they are likely to find it a disappointing coda to the work of the man who gave us THE ANDROMEDA STRAIN, THE TERMINAL MAN and many other novels that memorably — and far more effectively — combined speculative science and technology with the storytelling techniques of thrillers, and will be remembered as one of the most popular and successful contemporary authors. —Alan Cranis