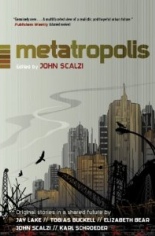 There is a school of thought that proposes all literature be considered only on its own merit, with no regard to the how or why of its creation. Such a school, however, would fail to appreciate the clever approach to a new story collection from Tor, METATROPOLIS.
The five stories in METATROPOLIS, edited by John Scalzi, were originally written as audiobooks, released on Audible.com in 2008. The audiobook was successful, and subsequently printed in a limited, small-press edition of 2,000 copies. Tor is now releasing the work for the first time in a general trade format, and fans of the post-recession-apocalypse genre should rejoice at that.
Beyond presenting five well-written, well-thought-out stories, METATROPOLIS — which Scalzi defines as "the city beyond" — is a cohesive collection resulting from the world-creating collaboration of its quintet of participating authors. That is, rather than write a story as part of a genre, which is then crammed forcefully into a themed anthology, the contributors — including Scalzi, Jay Lake, Tobias Buckell, Elizabeth Bear and Karl Schroeder — got together and created a futuristic world together, and then went off and wrote their stories individually.
The result is an impressively cohesive story collection, offering a varied sample of post-recession literature. Not quite post-apocalyptic, in that the world has not ended, and yet definitely set in the post-recession years, the tales provide a frightening glimpse into what could very well be our future if events continue as is. With the occasional descent into didactic notions of economic and environmentally friendly practices not yet adopted in the United States, METATROPOLIS nevertheless succeeds in its mission to present a collection of stories of a potential future.
Those who appreciate modern and urban science fiction are sure to enjoy the entire book; newcomers might find themselves attempting to puzzle out what a "whale-fluke micro-turbine" is, but will still appreciate the unique tactic in the writing of this work and the impeccable world creation that came of it. —Kerry Serini
OTHER BOOKGASM REVIEWS OF THIS AUTHOR:
• THE ANDROID'S DREAM by John Scalzi
• THE LAST COLONY by John Scalzi
• OLD MAN'S WAR by John Scalzi