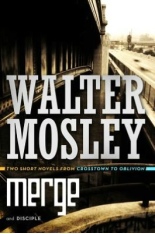 MERGE / DISCIPLE is the second dual-novella entry in the Crosstown to Oblivion series (following THE GIFT OF FIRE / ON THE HEAD OF A PIN from earlier this year) in which multifaceted author Walter Mosley moves beyond crime and mainstream fiction to address such weighty issues as the meaning of life and the nature of good and evil. This sophomore offering features two science-fiction stories that are superbly written, but ultimately disappointing due to their similarities.
MERGE tells the story of Raleigh Redman. Although he recently won a multimillion-dollar lottery, allowing him to quit his minimum-wage job, he quickly discovers that all his money won't win back the love of his former girlfriend. Then one day, Raleigh notices a strange, log-shaped object in his apartment.
The object turns out to be an extraterrestrial alien, one of many recently landed on Earth. As the alien slowly takes human form, added by Raleigh's care, it merges with Raleigh and enhances his life with both joy and perception he never imagined. The alien reveals to Raleigh the plan for its species to similarly merge with all life forms on Earth, thereby insuring the aliens' survival while correcting human destructive tendencies so that the planet itself can survive.
Other humans, including those in the U.S. government security forces, fear the aliens are intent on wiping out all terrestrial life forms and conquering the planet.
Hogarth "Trent" Tryman, the protagonist of DISCIPLE, drifts through life working at a dead-end data-entry job and keeping himself company at night with TV, the Internet and video games. One evening, he receives a strange instant message on his computer from someone calling himself Bron, who tells him that he's been enlisted to help usher in a wonderful new age for all of humanity under Bron's guidance and direction.
At first, Hogarth thinks it's a cruel practical joke — until Bron fulfills a promise and quickly makes Hogarth the head of the corporation he previously worked at. Now living a life he never thought possible, Hogarth carries out his end of the deal and performs various odd tasks for Bron. Yet as the tasks increase, resulting at times in the death of certain individuals, Hogarth wonders if he is really the instrument of this new age or simply a pawn in Bron's game of domination.
 
Mosley seems more at home with these two stories than the earlier duo. The prose is more forceful and assured; the characters, more dimensional and credible.
 
Unfortunately, even those who rarely read genre fiction can't help but notice several similarities in the two stories: They both center on rather unremarkable lead characters whose lives are suddenly altered by the intervention of alien beings. Both leads enjoy no small amount of wish-fulfillment as they transform, until they each reach a crossroads and must determine their own fate, as well as the fate of all humanity.
Additionally, both tales include long passages where the protagonists experience the higher existence of their alien visitors. While the writing style in these passages is highly inventive and often downright rapturous, they are at the end of the day interchangeable.
 
The earlier two-in-one book featured stories different enough in format to be enjoyed in one sitting. Sadly, the similarities of this pair demand a pause between the end of one and the start of the next to truly appreciate Mosley's skills and intentions.
 
Like the debut entry, the two stories are packaged as a flip book, reminiscent of the old Ace Double paperbacks. Both tales also feature evocative, full-page, black-and-white illustrations by Greg Ruth (a credit noticeably omitted in the first entry).
 
When you think about it, all of Mosley's work — from his groundbreaking crime fiction to his various stand-alone works — has dealt in one way or another with such topics as good vs. evil and the meaning of existence. These Crosstown to Oblivion stories go a bit out of their way to alert us that the author is venturing outside his literary comfort zone to urge us to look far beyond the events of his central characters.
 
It may seem a bit pretentious and altogether unnecessary; but an author as talented as Mosley is worth the risk. —Alan Cranis