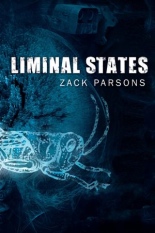 Zack Parsons has done the impossible: He's come up with an original idea. Unfortunately for both him and the reader, he promptly squanders the opportunity by releasing the half-baked novel LIMINAL STATES.
LIMINAL STATES is billed as a stand-alone sci-fi novel that is part of a multimedia project encompassing video, music, artwork, blogs and websites involving characters of the novel — all of which is surely designed to make the reader care for or understand the characters, because the novel fails to do either.
From the opening sequence in 1874 in which the reader is introduced to Gideon Long — the son of a successful businessman who turns to train heists when the business fails — to the final sequence set in modern (if alternate-reality) times, never once does the reader learn the reasons for Long's (or any other characters') actions.
As inscrutable as the protagonist is, the antagonist — Warren Groves, murderer turned sheriff — is even more idiopathic, to the point of appearing downright crazy. Really, it was Parsons' brilliant idea of the story that created anything cohesive, because while the wooden cast failed to grab me, the story itself was unique.
The plot essentially encircles a strange pool of water which grants anyone who bathes in it immortality: not by granting youth, but by creating "duplicates." As a duplicate ages and dies (or is killed), the pool produces another, and thus, the characters are reborn from the pool fully aware of their past to the moment of their most recent death. It's an interesting idea, made more so when the pool begins to spill out extra duplicates and even animals.
Overall, LIMINAL STATES could have been a stellar piece among the alternate-reality genre, but Parsons fails to handle it with the care he obviously has given his other projects (somethingawful.com). Yes, the premise is great and the setting is presented exquisitely, but the entirety of the cast is flat-out lifeless … no matter how many duplicates crawl out of the pool.
The simple fact is, all the great works, from THE BHAGAVAD GITA to OLIVER TWIST, cause the reader to feel emotion for the characters. LIMINAL STATES fails in that respect, and thus as a whole. —Chris Conte