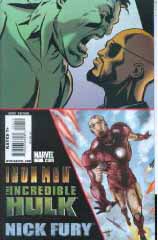 IRON MAN/HULK/FURY #1 is a nifty, novel one-shot from Marvel Comics, using three stories to tie together characters from its past summer's blockbusters — namely and naturally, IRON MAN and THE INCREDIBLE HULK. Marvel is doing the crossover thing on film as it works toward an AVENGERS extravaganza; this single issue is just helping it along.
The first story, "Fast Friends," even acts as a prologue and semi-epilogue to the IRON MAN film, filling in scenes we didn't get to see. The characters look like their Hollywood counterparts, and the attitude from Tony Stark is Robert Downey Jr. to a T. Just don't expect to actually see Iron Man in action.
Remember how Samuel L. Jackson popped up as S.H.I.E.L.D. agent Nick Fury in IRON MAN's end credits, and then Downey did THE INCREDIBLE HULK a solid by appearing at the close in a bar? In "First Impressions," Fury tracks David Banner in a bar to get a look-see at this supposed Hulk creature, planting a trick to coax the green beast out of Banner's timid body. It's a good story, with its only drawback being in the drawing: Fury looks just like Jackson, yet Banner looks nothing like Edward Norton.
Finally, Fury has a solo adventure in "Spies Like Us," a Budapest-set number that plays out like an old-fashioned spy story. Plus, it just lets Fury be a badass. All for just $3.99!
Some may dismiss this as a mere tie-in, but I think that'd be unfair. As someone who remembers when monthly comics told two or three tales in a single issue, I appreciate standalone stories. They're not complicated and easily digested; there's no trying to recall previous steps in an overblown epic storyline. It is what it is, and I'd love to see more like it. —Rod Lott