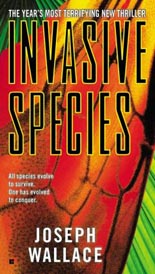 Good news, everyone! Global warming may not be as big a concern as some say! There is, of course, a quid for that quo, but let's not focus on the half-empty, people. Joseph Wallace's INVASIVE SPECIES sets up a possible curtain call for the human race, you and I given the hook by a particularly pernicious breed of insect. And, dang, it's a blast watching the apocalypse buzz in under the radar.
Wallace is working off the script perfected by the late Michael Crichton:
• Open in remote Africa, and reveal the threat.
• Then set the heroes racing against time to stop that threat.
• The establishment — sleazy politicians, arrogant scientists, greedy this and that — will ignore or cover up the threat.
• Every now and again, dump a little info on the readers, giving the breathless monster-movie narrative a bit of Discovery Channel cred.
• And with a few swift character notes, set up the archetypal protagonists.
Intrepid idiosyncratic expert Trey Gilliard is way outside the scientific mainstream and the first to recognize the threat; intrepid arrogant nerd sidekick Jack Parker heeds his buddy Trey's call and uses every wisecrack at his disposal to wake up the yahoos in the government; intrepid doctor Sheila Connelly is thrust onto the team by personal tragedy and, despite her soft empathy, has the kind of steely resolve you can't help but respect.
I'm teasing, maybe, but also cheering. The above summary is a caricature of the generic conventions this book (and each of Crichton's) pretty rigidly follows, but with the right craft, it's a winning formula. And Wallace is a dab hand. INVASIVE SPECIES doesn't diverge from the familiar, and the quasi-scientific architecture of the threat is less fully realized than the best of the Crichtonic apocalypses, but it is a well-crafted thrill ride.
I raced through with a big smile on my face as the world fell. Happy holidays! —Mike Reynolds