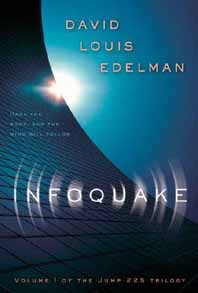 Movie money is creating a dark place in the science fiction publishing world. While this cash allows writers to quit their day jobs and write full time, it has also inspired a terrible rash of "cinematic" science fiction that isn't really science fiction at all. Pyr Books has emerged as the antidote to this sickness, and the latest example of this is David Louis Edelman's INFOQUAKE.
INFOQUAKE is a triumph of speculation. Edelman has foreseen a nanotech future of warring corporations and stock markets of personal enhancement in which both the good and the bad of the present day is reflected with an even hand and startling clarity.
The novel follows Natch, a programming prodigy who's risen to fame through genius and coincidence, both good and bad. As he worms his way to the top of the corporate ladder, he is offered an opportunity to work on near-mythical technology that puts people in charge of their own destinies and the fabric of reality itself.
This of, course, stirs up a hornets' nest of trouble, one that could not only destroy Natch, but the foundations of society itself.
This limited summary barely scratches the surface of this ultradense work. Much like the best in speculative fiction, INFOQUAKE plops readers down right in the thick of things, and while I like to pick up the jargon and technological references as I read, others will be glad to find glossary, timeline and biographical appendices in the back of the books to get you up and running.
Character development is deep and fulfilling; there are no cheap overreactions or out-of-the-blue emotional shifts. Edelman also plays with readers' perceptions a little bit, and he uses biographical flashbacks to turn Natch, from a cocky and abrasive corporate player into a misunderstood genius whom you want to succeed.
While there are several action scenes, Edelman's story manages to be exciting without action, with corporate meetings a T.J. HOOKER holding-on-to-the-hood car chase (i.e., very exciting). The back-of-the-book blurb says that the world of INFOQUAKE is "as imaginative as DUNE," but I would say it's WALL STREET meets NEUROMANCER.
Pyr is quickly becoming the standard by which all other sci-fi imprints are judged, and INFOQUAKE is no exception. This book is billed as the first of a trilogy, and for once, that's a good thing. –Ryun Patterson