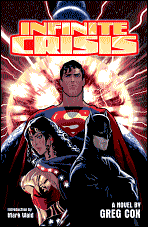 In INFINITE CRISIS, Greg Cox faced the unenviable job of adapting DC Comics' miniseries of the same name – one of those long-running "events" the industry does to shake up their imagined worlds and, thus, shake up sales – into a 350-page novel. Teeming with characters and telling a story that relies on visuals, the comic would seem unworkable in the prose format, but Cox streamlined the sprawl as much as he could, resulting in a surprisingly readable modern pulp.
Basically, the foundations of the Justice League of America are crumbling, as its space-orbiting Watchtower has been blown up, and its three core members aren't speaking to one another. The multiverse – a string of parallel worlds alternate to our Earth – is engaged in an intergalactic war, and Superman feels powerless to stop all the explosions, hurricanes and whatnot. Batman is racked with guilt and doubt, giving in to his dark side, while Wonder Woman finds herself ever pursued by OMAC cyborgs intent on killing her as payback for her taking the life of an enemy.
But those heroes are a mere fragment of all the players getting into the scuffle. There's the Martian Manhunter, the Teen Titans, Captain Marvel, The Spectre, Superboy, Hawkman, Hawkgirl, Adam Strange, the Green Lantern Corps, Green Arrow, Captain Comet, Uncle Sam and the Freedom Fighters, Animal Man, Firestorm, Power Girl, Aquaman, Black Canary, Metamorpho – that's by no means a complete list, and doesn't even begin to take into account all the alternate incarnations – Bizarro World included – of the heroes … and the villains, from the usual suspects (Lex Luthor, the Riddler) to the comparatively obscure (Deathstroke, Black Adam).
Millions die, including some of those listed above. Superman leads a charge to save Earth by replacing it with another one. (It makes more sense in the context of the whole thing.) INFINITE CRISIS remains true to the comics, which is both a blessing and a curse: If you're unfamiliar with the miniseries, you may be intimidated by the sheer hugeness of it all.
If the juggling act of characters results in a fractured flow, it's inevitable. But Cox fixes this as much as he can by crafting short chapters that move at an action-packed clip. The effect is not unlike watching a slew of Saturday-morning serials. INFINITE CRISIS may lack long-term suspense, but it cannot be accused of needing action – page for page, one would be hard-pressed to find a novel more oof-boom-pow than this, even under its bleak, morose veil of galaxy-wide cataclysm.
It may not be the best superhero novel ever written – for that, my money's still on Tom De Haven's original, revisionist IT'S SUPERMAN! – but I'd much rather read Cox's CRISIS than the actual comic version. To some, that's sacrilege, but to me, it's praise. –Rod Lott
Buy it at Amazon.
Discuss it in our forums.
OTHER BOOKGASM REVIEWS OF THESE HEROES:
• DC UNIVERSE: INHERITANCE by Devin Grayson
• DC UNIVERSE: LAST SONS by Alan Grant
• IT'S SUPERMAN! by Tom De Haven
• SHOWCASE PRESENTS BATMAN: VOLUME 1
• SHOWCASE PRESENTS SUPERMAN FAMILY: VOLUME 1
• SUPERMAN RETURNS by Marv Wolfman