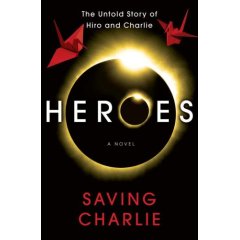 It's not for nothing Masi Oka was the lone Emmy-nominated actor of NBC's breakout hit HEROES. After all, his character of Hiro – the nerdy, Japanese computer programmer who discovers he has the ability to freeze time and teleport – is its most likable and relatable, thereby making him the ideal candidate as the focus of the series' first tie-in novel, Aury Wallington's HEROES: SAVING CHARLIE.
Fans of the show immediately will recall the first season's wonderful three-episode arc in which Hiro – in the midst of attempting to save the world from impending nuclear holocaust – got sidetracked as he was smitten with Charlie, a cute, plucky, redheaded waitress at a small-town Texas diner. She and Hiro made an instant connection, and just as he was set to ask her out, she had her brain yanked out by a bad guy.
That also is the starting point here, and as it was on the tube, so it is on the page, with Hiro jumping back in time a day to warn her not to go to work tomorrow. Trouble is, being new to this power thing, he's off by about six months, meaning he's stuck in the past for half a year. He makes the most of it by taking a busboy job at the Burnt Toast Diner and, of course, falling madly in love.
Wallington takes that base of a story and expands it to a full-length treatment. Yes, if you've seen the show, you have the high points already, but Wallington really fills in the details, credibly developing the relationship and adding in new characters, so that SAVING CHARLIE goes beyond a mere novelization. It's not a romance, but rather a believable human drama with a touch of sci-fi/fantasy.
For example, just when Hiro seems poised to be devirginized, he gets so caught up in the heat of the moment that he accidentally teleports back to Japan, leaving Charlie in the lurch. That's something you never got to see on TV. Plus, Charlie's exit point in the series doesn't mark her departure here. Instead, there are more adventures in store for her and Hiro well after that.
Initially, I was skeptical – even more so when Hiro was described on page one as "bringing sexy back" – but SAVING CHARLIE is the definition of an effortless read. It may not sound like praise to call something "exceedingly pleasant," but it's meant to be. What it may lack in invention is compensated in charm, making its 260 pages fly by in less than three hours' time for me.
Wallington adds nice touches of humor (Hiro's slovenly landlord offers him a Viagra, crudely telling him it'll "put some wasabi back in your California roll"), but when you come down to it, the emotions are what she has nailed. The ending is moving, naturally, but so is an early scene with our hero lost and on his own in a Texas mall, barely able to speak our language. The situation gets him down until he chances upon a store that sells stacks of his beloved manga. Then, she writes, he is alone no more.
The strength of SAVING CHARLIE helps make up for the TV show's admitted sophomore slump, part of which can be blamed on taking away everything that's so great and universally adored about Hiro. This novel restores it. –Rod Lott
OTHER BOOKGASM REVIEWS OF THIS SERIES:
• HEROES: VOLUME ONE