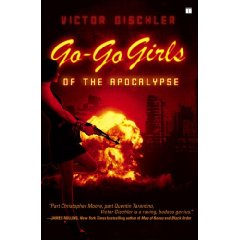 Since Cormac McCarthy's Oprah-endorsed, Pulitzer-honored THE ROAD hit the best-seller list, post-apocalypse stories have been a hot topic. But while literary critics and Ivy League professors deliberate, science-fiction fans have been shaking their heads muttering, "Been there, read that. Lots of times!"
Now the latest, most entertaining and insightful world's end vision comes from none other than Victor Gischler, whose four previous crime novels are notable for their sure-handed plotting and mordant humor. He takes an altogether different path with GO-GO GIRLS OF THE APOCALYPSE, as evidenced by the gotta-love-it title. Cool cover, too.
Mortimer Tate, a recently divorced insurance salesman, has been holed up in his cabin adjacent to a cave on top of a mountain in Tennessee. And for the past nine years, the world has gone straight to hell. It started with massive earthquakes and resulting natural disasters, then quickly moved on to terrorist bombings and global warfare.
All the while, Mortimer has been hoarding food and other supplies in his cave. But an intrusion by three strangers and the shoot-out that immediately follows causes Mortimer to leave the comfort of his mountain cabin and see what's left of the country. More particularly, he's worried about Anne, his ex-wife.
As Mortimer wanders the deserted highways and burnt-out buildings, he meets a drifter wearing cowboy attire and six shooters on his belt. His long blonde hair and beard make him look like Gen. Custer, but he prefers to be called Buffalo Bill. Mortimer and Bill continue their journey, encountering several weird and dangerous remnants of humanity until they discover the lone surviving outpost of civilization: Joey Armageddon's Sassy A-Go-Go, one of a chain of strip clubs featuring booze, music and lots of scantily clad bar maids and cage dancers. All this, along with a dry goods store and rooms for the night — a true post-apocalypse paradise! So Mortimer trades in the many supplies he took from his cave for a Joey Armageddon Platinum Member Card, which includes a huge credit of valuable Armageddon Dollars.
But the paradise is short-lived as Mortimer and Bill head back out on the road in search of Mortimer's ex. They are eventually joined by other lost souls and recruited in a climactic, bullet-strewn car battle, reminiscent of George Miller's MAD MAX movies, outside the Lost City of Atlanta. And the fate of humanity, such as it is, is at stake.
It's all played for laughs, of course, but because it's Gischler, it's some of the darkest, grisliest humor you're likely to experience. Yet lurking beneath the surface of this nightmare comedy is a satiric profundity that pushes it far above most similar stories. This is the way the world will carry on: with an eye toward making a buck. And if civilization as we once knew it is ultimately restored — well, okay. Just as long as we got cold beer and hot strippers.
Along the way, however, the plot meanders a great while before finding its mission. And poor Mortimer gets conked on the head more often than any reluctant hero deserves. Luckily, none of this detracts much from the fun and urge to follow Mortimer and his cohorts from chapter to chapter.
Gischler's future is one we're most likely to fall into if we're not careful. So read McCarthy's THE ROAD if you must. But you really must read GO-GO GIRLS OF THE APOCALYPSE. —Alan Cranis
OTHER BOOKGASM REVIEWS OF THIS AUTHOR:
• SHOTGUN OPERA by Victor Gischler