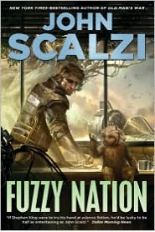 Published in 1962, H. Beam Piper's LITTLE FUZZY is an easy-to-like, somewhat forgotten, Hugo-nominated, science-fiction book that is very much rooted in its time. John Scalzi is a prolific, easy-to-read, Hugo-winning novelist whom I think of as the spiritual successor to the authors of science fiction's golden age. So if Scalzi decides he wants to "reboot" LITTLE FUZZY, let him, for L. Ron's sake!
Yes, it's a "reboot," not a sequel. FUZZY NATION takes the characters and general theme of the original, and remixes, updates and revitalizes them into a novel that's hard to not read cover-to-cover in a single sitting (a long one, with bathroom breaks, of course). It's also sort of like AVATAR and, at the same time, awesomely superior to AVATAR.
There's a plot, too, if that's something you're interested in: Jack Holloway is an independent contractor on the planet Zarathustra, which is sort of like the company town in the song "16 Tons," except the company controls an entire planet, and is able to exploit all of its natural resources, so long as there isn't a sapient species already there to claim ownership.
Holloway hits upon the prospecting score of a lifetime, and upon returning home, finds a previously unknown, fuzzy little animal at his house. From then on, he has to deal with his ex-girlfriend and their tribulations, his shrouded personal history, and a bunch of company thugs who not only want Jack out of the way, but don't like the possibility that his fuzzy new friends could be anything but dumb animals. 
That little teaser is sort of pathetic to read right after reading the book, because Scalzi has a way of writing that makes it seem like writing a great novel is effortless: His prose is straightforward, and he isn't inclined to throw in text that advertises the depths of research he conducted in writing this work. He makes it seem so easy that it's inspiring, even if you're less than satisfied with the results (see the above paragraph).
Another awesome aspect of FUZZY NATION is Scalzi's refusal to turn it into a big-guns/big-ships, dystopian shoot-'em-up. To put FUZZY NATION in terms of Kevin Bacon movies, it's more A FEW GOOD MEN than X-MEN: FIRST CLASS and that both keeps with LITTLE FUZZY's tone and once again reminds us that there used to be scores of science-fiction books out there that didn't rely on lasers or cyborg assassins to clean up dangling plot threads. 
This is a reboot that works, and it works in such a way that should make people revisit Piper's original FUZZY books and draw old-school science-fiction fans to Scalzi's work (my favorite is THE ANDROID'S DREAM). It's easy to read, accessible, moving and ultimately great. —Ryun Patterson