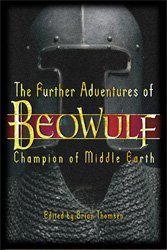 Ah, Beowulf, scourge of my senior-year Advanced English class. I remember you well, you "epic poem," you. Supposedly about a hero slaying a monster, but so steeped you were in archaic verse, I could detect neither. However, if we had learned of you from the anthology THE FURTHER ADVENTURES OF BEOWULF: CHAMPION OF MIDDLE EARTH, I might have performed backflips. Maybe even while reading you twice.
Edited by Brian M. Thomsen (who offers up a brief history of Beowulf in his introduction), the book offers four new, standalone tales of the Conan precursor – a template for all literary superheroes to come – as well as reprinting John Earle's 1892 prose translation. Seamus Heaney be damned – Earle's text is accessible and even exciting, neither term I could ever place upon the work in its original verse form.
But translations are a dime a dozen; it's the new stories by which this collection will be judged. The best is also first: Jeff Grubb's "Beowulf in the City of the Dark Elves," a high adventure in which our hero helps out a village whose children have been swiped by a race of purple-cloaked elves who desire the tots for their meat. The others, while less effective, are still fun. Lynn Abbey's "Beowulf and the Titan" has the warrior battling a giant, only to encounter water beasts, insect swarms and meals of rats along the way. Things come off a bit comical with Wolfgang Baur's "Beowulf and the Attack of the Trolls," while Ed Greenwood's "Beowulf and the Wraith" is the bloodiest (and sexiest) of the select bunch.
Rounding out this unique title is a wraparound story with a twist ending and a partial but annotated bibliography of Beowulf translations, spin-off novels, movie and TV adaptations and even comic books. I'll admit I'm a fan of the 2000 version starring Christopher Lambert, and now I'm dying to see what Michael Uslan cooked up for DC Comics when he had Beowulf taking on Dracula and aliens in the mid-'70s. Whether the epic poem has been your academic friend or foe, FURTHER ADVENTURES is like a one-stop shop for all things Beowulf. –Rod Lott
Buy it at Amazon.
Discuss it in our forums.
OTHER BOOKGASM REVIEWS OF THIS AUTHORS:
• THE AWFUL TRUTHS: FAMOUS MYTHS, HILARIOUSLY DEBUNKED edited by Brian M. Thomsen
• NOVEL IDEAS: FANTASY edited by Brian M. Thomsen
• NOVEL IDEAS: SCIENCE FICTION edited by Brian M. Thomsen
• A YULETIDE UNIVERSE: SIXTEEN FANTASTICAL TALES edited by Brian M. Thomsen