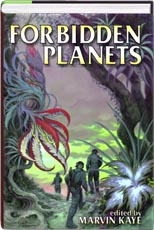 In honor of the wave of 1950s films dealing with finding unfriendly life on other planets, Marvin Kaye's latest anthology, the aptly titled FORBIDDEN PLANETS, explores the subject through six all-new, pure sci-fi novellas from well-known authors in the genre, in a book available exclusively from the Science Fiction Book Club.
Alan Dean Foster's "Mid-Death" is an account of an against-all-odds rescue mission of a research xenobotanist who went AWOL on an planet filled with aerial predators, water-dwelling creatures, parasitic plants and other alien planet matter. The deeper the rescue team gets into the foilage, the weirder and deadlier the landscape becomes. Foster achieves at least two scenes of real terror in less than 50 pages.
In "Walking Star," Allen Steele weaves a tale of hunter's guide Sawyer Lee, hired by a megabucks CEO to search for a drug-abusing employee on the loose. By boat and by foot, Lee takes the man to New Boston, where the Native American worker was last seen. The descriptions of the unusual greenery are unnerving, and the employee's current state quite hallucinogenic.
Less successful is Nancy Kress' "JQ211F, and Holding," which hatches an always intriguing "where'd that space probe go?" scenario, but assumes you know more than you do going in and fails to clinch you at the start. My mind stumbled as it tried to catch up. Ditto for Robert Reed, who had similar problems with his entry for the SFBC's otherwise excellent DOWN THESE DARK SPACEWAYS anthology of sci-fi mysteries. His "Rococo" follows a woman on a search for her brother; the fact that he's 1,000 years younger than she is about the most lucid part of it. Yet one theme shines through, that of family; as Rococo says to his sister: "Can you imagine, Aasleen … how wonderful the universe would be, if we could simply jump from one family to the next until we found happiness…?"
Jack McDevitt gets things back on track with "Kaminsky at War," involving a multi-religioned alien race called the Noks, currently embroiled with the Raiders in a war that comprises seven of nine continents. Kaminksy is a human who bears witness to the slaughter to the Noks, which he has studied as an anthropologist for years. The story also involves psychological warfare and artificial intelligence. And Julie E. Czerneda also delights with the avatar-ific "No Place Like Home," the ending of which gave me a little chill. (Whether that was because of her prose or my ceiling fan, I know not, so we'll give the point to her.)
Four novellas out of six being good is a pretty good track record, especially for exclusives you won't find elsewhere. Fans of any of these six authors will want to visit FORBIDDEN PLANETS, without question. –Rod Lott
Buy it at SFBC.
Discuss it in our forums.
OTHER BOOKGASM REVIEWS OF THIS AUTHOR:
• DON'T OPEN THIS BOOK! edited by Marvin Kaye
• THE FAIR FOLK edited by Marvin Kaye
• THE ULTIMATE HALLOWEEN edited by Marvin Kaye