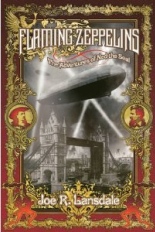 FLAMING ZEPPELINS: THE ADVENTURES OF NED THE SEAL finds Tachyon Publications collected two Joe R. Lansdale novels — 2001's ZEPPELINS WEST and 2005's FLAMING LONDON — previously published in limited editions by Subterranean Press. Now everyone has a chance to experience these two steampunkish tales that manage to redefine outrageousness, even for the likes of Lansdale. And that's saying something!
At their core, these two novels are crazed, raucous and mashed-up tributes to some of the author's favorite fiction and characters. These include works by Jules Verne, H. G. Wells and Mark Twain, along with bits of L. Frank Baum, Bram Stoker, Mary Shelley and the dime-novel adventures of Buffalo Bill Cody and members of his Wild West Show. Yep, Lansdale crams all of these together, and then some, while adding his own unmistakable voice and attitude.
ZEPPELINS WEST opens with the members of the Wild West Show traveling toward a command performance in imperial Japan on a fleet of ornate zeppelins. Their leader is Buffalo Bill Cody … or what's left of him. He's a decapitated head kept alive in a Mason jar filled with fortified pig urine and whiskey. Before reaching their destination, Cody reveals to his fellow headliners — including Wild Bill Hickok, Annie Oakley and Sitting Bull — the secret mission of their trip: kidnap Frankenstein's monster, held captive by the Japanese emperor, and return it to the U.S. for study by the team of doctors who plan to reunite Cody's head with his body, which is being kept on ice back home.
But their kidnapping is discovered, and as they escape, their dirigibles are shot down over the ocean by Japanese fighter planes. Fortunately, Cody and the others are rescued by Capt. Bemo and transported in his undersea vessel to the mysterious island of Dr. Momo. Then they discover that Dr. Momo intends to keep them captive while he continues his experiments that turn his isle's animals into near-human beings.
 
One of the altered animals Cody and his cohorts meet is Ned, a seal whose brain has been advanced, thanks to a metal box attached to his head. This gives him the ability to think, read and, thanks to a pair of thumbs added to his flippers, to write as well. Ned, a huge fan of Cody's fictionalized adventures, returns and figures prominently in FLAMING LONDON.
 
This follow-up opens with Mark Twain, who departs his meager dwellings in Morocco and travels to Spain to meet with friend and fellow author Jules Verne. As he arrives, Twain discovers the near-dead body of Ned the Seal on the beach near Verne's mansion. Twain and Verne nurse Ned back to health and, thanks to Ned's furious scribbling, learn of his earlier adventures.
Before long, the three friends — and, indeed, the entire planet Earth — are threatened by flaming ships falling from the sky containing huge, octopus-like Martians bent on conquering the planet (that is, if they can stop arguing with themselves like The Three Stooges). Verne, Twain and Ned flee, but find that their escape is hampered by a rip in time's continuum that, not surprisingly, is wreaking havoc all over the place. Verne, however, feels their one chance to correct the whole situation is to contact and enlist the help of one H.G. Wells, so the trio heads for London.
 
This already heady stew is spiced throughout by Lansdale's bawdy and altogether irreverent humor. While the novels are never less than laugh-out-loud funny and chock-full of unexpected plot twists and turns, readers might experience something akin to mental indigestion as they try to take in and keep up with all the assorted references, asides and narrative adhesives.
 
But this is only when you try to force some kind of formality on these stories. And formality is the last thing in the world you want bothering you when Lansdale is feeling frisky like this, with lots of tall tales to tell.
 
So relax, kick back and let this pair unbutton your brain for a while. You'll enjoy the ride and be thankful for the experience. We should all be thankful to Lansdale and Tachyon for rescuing Ned's unforgettable adventures from obscurity. More fish for everybody! —Alan Cranis