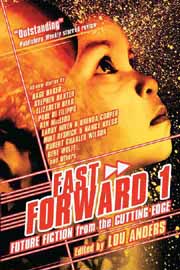 These are interesting times for science fiction – for writers, readers, and the general public. Cormac McCarthy's THE ROAD has won a Pulitzer; some fans rejoice, while others wail and beat their breasts because, as post-apocalyptic as it may be, McCarthy's book isn't shelved between Anne McCaffrey and Ian McDonald. No, THE ROAD is on the "literature" shelves, far from the genre Sargasso of Laurel Hamilton and BABYLON 5 novelizations.
I think science fiction is in a fairly great Renaissance nowadays, but the best writing is not being released for mass consumption. Most Hugo and Nebula nominees for short fiction come from a handful of niche magazines with minuscule maketing budgets. It's great stuff, but it's sadly obscure.
Enter editors Lou Anders and his FAST FORWARD 1: FUTURE FICTION FROM THE CUTTING EDGE, which is so good that I suggest Pyr wait a year and republish it with the title BEST SCIENCE FICTION OF 2007. This is an important book that can move science fiction one step closer to the "literature" shelf, if it so desires.
To get into specifics, yes, the big-name authors are here: McDonald, Ken McLeod, Paolo Bacigalupi, Gene Wolfe, Elizabeth Bear, Stephen Baxter, Larry Niven, Brenda Cooper, Mike Resnick, Kage Baker (not with a "Company" story, thankfully) and tons more. The tone ranges from rock-solid hard sci-fi to good ol' sci-fi adventure, without skipping a beat. Even Robyn Hitchock – yes, that Robyn Hitchcock – also contributes some poetry that doesn't suck.
Anders has coaxed such incredible goodness out of these writers that if you only read one or two stories a month, it's better than a year's subscription to most of the genre magazines out there. (Still get Asimov's, though; the only fistfight I ever had in high school was because I was reading it, so I have a soft spot in that regard).
Highlights? Consider:
• Niven and Cooper revisit the world they created in the great 2005 story "Kath and Quicksilver" with the far-reaching "The Terror Bard."
• Justina Robson explores the not-so-glamorous side of being a costumed heroine in "The Girl Hero's Mirror Says He's Not the One."
• George Zebrowski shows us once again how ridiculous we are as a species in "Settlements."
• "Jesus Christ, Reanimator" by McLeod plops Our Savior down in the Middle East after being abducted by aliens (seriously), and history sadly repeats himself.
• Baker puts a dollop of LORD OF THE FLIES on top of a smattering of ENDER'S GAME for "Plotters and Shooters."
My personal favorite is McDonald's "Sanjeev and Robotwallah." Set amid the future India of RIVER OF GODS, it explores the problems associated with demobilizing child soldiers, except these child soldiers command squadrons of 10-ton battle mechs.
With a deep bench of talent and a perfectly paced setlist, Lou Anders has made made a book that truly represents its own theme. FAST FORWARD has the potential to be the future of short-form science fiction. –Ryun Patterson
OTHER BOOKGASM REVIEWS OF THESE AUTHORS:
• ALIEN CRIMES edited by Mike Resnick
• THE CHILDREN OF THE COMPANY by Kage Baker
• DOWN THESE DARK SPACEWAYS edited by Mike Resnick
• THE DRACO TAVERN by Larry Niven
• RIVER OF GODS by Ian McDonald
• SOLDIER OF SIDON by Gene Wolfe
• TIME'S EYE / SUNSTORM by Arthur C. Clarke and Stephen Baxter