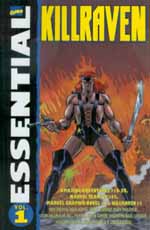 Spurred on by America's brief, Cruise-induced love affair with all things WAR OF THE WORLDS last summer, Marvel Comics released ESSENTIAL KILLRAVEN: VOL. 1, a collection of a series which began as a sequel to H.G. Wells' classic novel, but quickly devolved into something with little connection.
"Who's Killraven?" you ask. It's a good question. (Even I had to pose it.) In short, he's a muscular himbo. If Conan had red hair and were plunked into ESCAPE FROM NEW YORK – plenty of sword, hold the sorcery – that's what Killraven is all about. Debuting in the pages of AMAZING ADVENTURES #18 in 1973, he's a survivor of the second Martian invasion of 2001. Bred for the gladiatorial pens, he escapes and vows to fight a one-man war against those blasted Martian tripods. Thanks to them, civilization has been disintegrated into a wasteland, mutants lurk in the city's bowels, the ruins of Yankee Stadium play home to a mammoth, acid-spewing crab. On the plus side, female molecular biologists wear see-through mesh tops and black thongs, so it's not a total loss.
Finding fast allies – including African-American fellow fighter M'Shulla; retarded, balding muscleman Old Skull; and green-skinned girl Mint Julep – Killraven leaves New York for a coast-to-coast trek, facing all sorts of monsters along the way, from the Human Squid and a cyclopsian Skar to giant spiders and a rat/human hybrid named, cleverly enough, Rattack. One issue, Killraven & Co. are duking it out at the Indy 500; the next, trying to tame a half-horse/half-serpent in Battle Creek, Mich.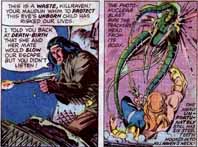 Late in Killraven's 22-issue run which concluded in 1976, things get progressively weirder. If you think this series' being set three decades in the future would prevent Marvel's requisite pairing with Spider-Man, bite your tongue. Go on, puncture that sucker, because Spidey hops on some crazy sheet of glass that transports him to Killraven's time. And he's not the only hero who pops up in these adventures. In Miami, our bare-chested warrior discovers a dream dome, in which he hallucinates near-deadly encounters with a spiked Iron Man, Man-Thing and Giant Man. Plus, Dr. Strange leads bizarro versions of the Avengers in a religious ceremony in which they worship a stone head of sportscaster Howard Cosell. This weirdness is topped only by K.R.'s LSD-ish freakout, complete with a talking squirrel named Walter J. Throgmoid.
It all sounds better than it actually is. Though the initial issues plotted by old pros Roy Thomas, Gerry Conway and Marv Wolfman are fun, the series turns boring once Don McGregor steps in as the regular scripter. McGregor has better ideas than the others for stories, but not the skill to pull them off. His problem is his maddeningly verbose prose; he literally uses blocks and columns of text at the sacrifice of the art, not to mention meaning. Amidst all these words, points fail to connect, plots fail to gel.
But the art is always good for the duration of the AMAZING ADVENTURES, with Neal Adams, Howard Chaykin, TOMB OF DRACULA's Gene Colan and, most notably, Herb Trimpe, whose immense talents also lifted the work in ESSENTIAL GODZILLA. I cannot say the same for the 1983 KILLRAVEN graphic novel that's also included. P. Craig Russell's drawings look sloppy and rushed, and McGregor again drains the life out of it. To be fair, that was in the early stages of the graphic novel, before anyone really knew what to do with it, other than throw in some sex. And 2001's attempt at reviving Killraven as part of the Marvel Knights line, though slick and polished, is dreadfully dull, little more than a two-person conversation, void of action. It ends this mediocre collection on a serious down note. –Rod Lott