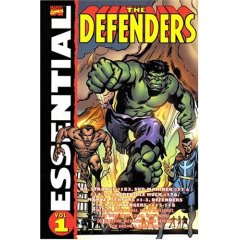 Superhero organizations like the Avengers or the X-Men are just clubs or work, but the Defenders is like family. Because all they do is fight, bicker, hold grudges and come together only when they absolutely have to.
As demonstrated over and over in ESSENTIAL DEFENDERS: VOL. 1, the Defenders don't even consider themselves an official group. That's how much they hate each other. And by "they," we mean Dr. Strange, Hulk and Prince Namor, the Sub-Mariner. Their non-formation took root in their individual titles – with cross-cameos from one another – before reluctantly assembling in the pages of tryout title MARVEL FEATURE, where they fight all sorts of otherworldly monsters and threats from another dimension. Because of the emphasis on the fantastic and supernatural, their adventures more closely resemble Dr. Strange's.
It's more of the same – but better – when they graduated to THE DEFENDERS, the first 14 issues of which appear here. Sometimes Hulk gets pissed and leaves mid-adventure or Namor is so hotheaded that he refuses to take the Doc's call, so sometimes the Defenders aren't even all there. But they get occasional help from second-stringers the Silver Surfer, Hawkeye and the Valkyrie, she of the metal breast cups. Things get awfully ambitious – and, in typical Marvel style, overhyped ("the slam-bang shocker of the century … collectors' items in the making!") – when the Defenders are tricked in fighting the Avengers in an epic, seven-issue arc between the two groups' books. As fun as it is to see the Defenders match powers with the mystical, I more enjoyed seeing them take on Captain America, Thor, the Vision, Scarlet Witch, Iron Man, Black Panther, Mantis and the Swordsman.
This is definitely one of Marvel's strangest – and thereby most entertaining – books of the 1970s. Let's all remember Roy Thomas come Thanksgiving for having the foresight to think up all this dysfunction. –Rod Lott
Buy it at Amazon.
Discuss it in our forums.
OTHER BOOKGASM REVIEWS OF THIS SERIES:
• ESSENTIAL GODZILLA: VOL. 1
• ESSENTIAL IRON FIST: VOL. 1
• ESSENTIAL KILLRAVEN: VOL. 1
• ESSENTIAL MOON KNIGHT: VOL. 1
• ESSENTIAL NOVA: VOL. 1