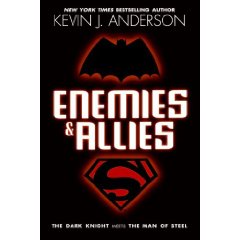 Superman and Batman have been pals for so long, we take that friendship for granted. So Kevin J. Anderson uses his novel ENEMIES & ALLIES to go back and imagine how the Man of Steel and the Dark Knight might have met initially. It didn't exactly start off on the right foot … but the book sure does!
Set in the Cold War (and thus, not too terribly long after the characters' actual creations), Superman is so new to the scene that he hasn't yet been given that nickname. Batman, meanwhile, is still considered a public menace, a vigilante — despite a real knack for taking the lowest of the low off Gotham City's mean streets.
Out of his cowl, Batman is millionaire playboy and martini drinker Bruce Wayne. In one of his weekly board meetings at Wayne Enterprises, a member suddenly resigns without explanation, which Bruce finds odd. Doing some digging, he learns the man quit because — unlike his fellow board members — he refused to accept bribes and sell trade secrets to the competition: LuthorCorp.
LuthorCorp's CEO is, of course, the bald-headed bad guy Lex Luthor. He's in bed (figuratively) with a KGB general, hatching a devious plan to make himself a superpower of his own, involving a death ray he's developed. On a visit with his Soviet comrade in Siberia, he also comes across a chunk of some strange green mineral.
Superman spends much of his time as Clark Kent, sniffing around Area 51 with Daily Planet photographer Jimmy Olsen and vying (against himself, strangely) for the affections of ace reporter Lois Lane. Of course, she'll find herself into serious trouble that'll require her rescue. The unusual thing is, so will Superman. And Batman will be the only one who can help him.
Yet their initial meetings are wrought with misunderstanding and distrust, both wrongly assuming the other to be on the LuthorCorp side. It's not until much later that the heroes shift into WORLD'S FINEST mode, and fight together for the greater good.
Although lacking the gravitas of 2007's THE LAST DAYS OF KRYPTON, Anderson's semi-sequel stands tall as superior sci-fi entertainment. If set in the present day, it wouldn't seem like a big deal, as the plot isn't exactly epic. But in choosing a Cold War backdrop, Anderson drapes the story in a sort of "gee whiz" nostalgia that recalls the characters' Golden Age, when America first fell in love with them.
Making Luthor a conspirator with Sen. Joseph McCarthy is another masterstroke — one not driven into the ground, but brought up just enough to make its point. The disgraced Congressman isn't the only historical figure to make an appearance; look for Marilyn Monroe, Eleanor Roosevelt and Nikita Khrushchev. And for followers of the comics, there are cameos by Oswald Cobblepot and Selena Kyle.
Anderson has a lot to offer in ENEMIES & ALLIES: an alien invasion, detection and adventure, even a smidge of romance — all making for an appealing, spirited look at the early days of two pop-culture icons. —Rod Lott

"He easily ducked a sluggish roundhouse punch, then pounded the beast's hairy solar plexus."
OTHER BOOKGASM REVIEWS OF THIS AUTHOR:
• DEAN KOONTZ'S FRANKENSTEIN: BOOK ONE – PRODIGAL SON by Dean Koontz and Kevin J. Anderson
• THE LAST DAYS OF KRYPTON by Kevin J. Anderson
• THE LEAGUE OF EXTRAORDINARY GENTLEMEN by Kevin J. Anderson
• THE MARTIAN WAR: A THRILLING EYEWITNESS ACCOUNT OF THE RECENT INVASION AS REPORTED BY MR. H.G. WELLS by Kevin J. Anderson