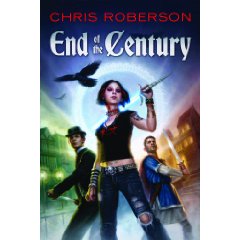 You certainly get your money's worth with Chris Roberson's END OF THE CENTURY. It's like getting three novels in one, although it really is only one. Its ambitious story and structure alternates chapters between three leads, each of whom lives in a different time period in Britain, and each of whom operates in his or her own genre.
The Arthurian fantasy, the Sherlockian mystery and the modern-day young-adult adventure all have their day in the ambitious book. How on earth do they merge to form a whole? Well, reader, that's the proverbial half the fun.
In 498 A.D., a man named Galaad is plagued by strange, cryptic dreams of a woman in white, so he travels to the castle of King Artor in hopes of having them deciphered. That's just the start of Galaad's travels, on a road paved with creatures.
In 1897, detective Sandford Blank and partner Roxanne Bonaventure investigate the murders of local prostitutes. At first, the authorities believe Jack the Ripper has resurfaced, but Sandford and Roxanne sniff around enough to determine that not to be the case, that a new homicidal maniac is afoot.
Finally, in 2000, troubled, tattooed teen Alice finds herself flying to England for reasons undetermined. Like Galaad, she has visions; however, hers come from seizures. Alice — a nod to Lewis Carroll, obviously, with what's to come — finds an ally in spy Stillman Waters, who helps her overcome a run-in with pack of albino dogs. And then there's the trip to the Unworld.
Roberson's imagination is in full force, and the results are magical, although a tad too epic. He deserves praise for being able to keep each section true to its genre without having the novel feel schizophrenic. He tells three separate stories so winningly that you won't care — for the most part, at least — that they have yet to merge.
As usual, I feel like END OF THE CENTURY veers toward seeming endless as the third act progresses, but that's a problem with many books (and movies, and it should be noted that I'd love to see one made from this). Roberson is an underrated name in the field of fantasy and science fiction; this effort was no easy undertaking, but it's ingenious and spirited, and he pulls through with his head held high. —Rod Lott
OTHER BOOKGASM REVIEWS OF THIS AUTHOR:
• ADVENTURE: VOL. 1 edited by Chris Roberson