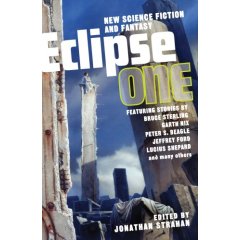 "If you look at photos taken of the sun during a lunar eclipse," editor Jonathan Strahan writes in the introduction to ECLIPSE ONE: NEW FANTASY AND SCIENCE FICTION, "you'll see a strange, dark eldritch thing."
Strange, dark and eldritch certainly describe this anthology, which collects 15 original fantasy and science-fiction short stories. All the tales in ECLIPSE ONE are creepy at the very least, and the spookiest of them could very well keep you up at night. While the title gives equal billing to two genres, there are only a couple of sci-fi stories here; its stories are far more similar to the works in Ellen Datlow's great THE YEAR'S BEST FANTASY AND HORROR annuals than, say, Strahan's previous sci-fi collections.
If you're only looking for cyberpunks and singularities, there's nothing to see here, and in this case, that's a positive, because the tales Strahan's got for ECLIPSE ONE are just fine as they are.
At the top of the heap is "Toother," from Terry Dowling, which revisits Dr. Dan Truswell and the Blackwater Psychiatric Hospital from Dowling's BLACKWATER DAYS collection. As the police, Truswell and his psychic patients try to track down a killer, evidence mounts that the killings have been going on for longer than was previously suspected. Oh, yeah, they're also bitten to death.
Other highlights include:
• Bruce Sterling's "The Lustration," which looks at artificial intelligence in a world where the Internet takes an extremely weird shape.
• A creepy and sly Western/voodoo/poker mash-up from Ysabeau S. Wilce.
• "Up the Fire Road," Eileen Gunn's crazy and hilarious cryptozoological take on modern relationships and mass media.
• "Electric Rains" by Kathleen Ann Goonan, who takes a bevy of postapocalyptic themes and spins them into a surprisingly cohesive cloth.
Strahan notes in his introduction that this is a great time for short stories, even if a good business model for distributing them hasn't been devised yet. Between his efforts and those of others like Lou Anders at Pyr, anthologies of fresh fiction might actually become a new revenue stream for short-story writers as the traditional markets fade, and in a literature of ideas, a short-story culture is crucial to preserve the longer-form blockbusters. –Ryun Patterson
OTHER BOOKGASM REVIEWS OF THESE AUTHORS:
• THE BEST SCIENCE FICTION AND FANTASY OF THE YEAR: VOLUME ONE edited by Jonathan Strahan
• BEST SHORT NOVELS 2005 edited by Jonathan Strahan