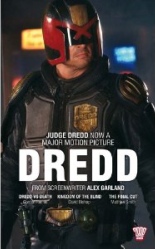 Despite appearances to the contrary, DREDD is not a novelization of the upcoming 3-D movie, which I'm super-psyched to see (in 2-D) for two reasons:
1. Judging from the trailer, it looks like they really nailed it in tone and action.
2. Most importantly, Judge Dredd reportedly never takes off his helmet, which means it stays true to his 2000 AD comic adventures, unlike that crushing mess from 1995 that starred Sylvester Stallone.
But back to the book: This mass-market paperback collection gathers three earlier novels in one affordable package.
Gordon Rennie's DREDD VS DEATH is like a CliffsNotes for Judge Dredd. In the future, law enforcement is composed of mobile, cop-like judges who carry out sentences right then and there. These judges are total badasses; I mean, if you jaywalk, expect to serve some serious time.
This 2003 book is pretty self-explanatory: Take one of the baddest villains in the whole run of DREDD and have him come back for revenge. Actually, this book was based on a video game that came out, but since I didn't own a console at the time, I never got a chance to play it or even see it in action. But the story on its own holds up real well.
Sure, some of it reads like, "Oh, that must be a level in the game"-type stuff. But don't let that stop you from reading it, because the story is nonstop action in the Dredd mold, from references to old strips I remember as a kid to some of the cultural jokes it was always peppered with. This is a great way to kick off this collection, since it introduces readers to the world of Dredd in a concise way, with Rennie knowing the source material well.
The one thing I loved more and more while reading Judge Dredd weekly in 2000 AD were the epic storylines. Most fans know what I mean, but for those still not on the Dredd bandwagon, I highly suggest picking up the COMPLETE CASE FILES 02, which contain the first two types of these stories: the kind that took weeks and even close to a year to flesh out.
From 2004, David Bishop's KINGDOM OF THE BLIND has that truly epic feel told within a short timeframe, but so massive in scope and with various threads running through. One deals with a conference of judges from other countries working out a extradition treaty. The second deals with a new judge giving an undercover assignment to infiltrate Jesus Blud's crime organization, which might cost him his life. The third thread deals with Blud's plan of destruction and to bring down the judges.
All of these, of course, interconnect, with Dredd playing a central role throughout. Not to go into spoilers, but this is a truly a love letter to fans of the series. Not only do we find out that Dredd is close to 60 in age, but still as sharp and powerful as ever. Also, there are references to some previous storylines of the comics, while also putting in enough humor you come to expect.
But what will really grab readers is how brutal things get, and Bishop happily throws twists and turns in each chapter, saving a great surprise for the last one. Sure, if you've never read the comic, KINGDOM remains great science fiction, but you would be cheating yourself if you don't take in the comics first. The novel builds on so many of the comics' aspects that the fans are going to eat it up.
First and foremost, Matthew Smith's THE FINAL CUT is not for kids. If you have a little Judge Dredd fan running around your house, don't let them read this 2005 novel, because it's for adults only.
No, it's not filled with gratuitous sex. Instead, it's about snuff films, and in superdescriptive ways. The plot begins with the discovery of a dumping ground for the bodies of low-level actors and actresses. We read within the first few pages just how one of them ends up dead.
The story plays like a straight-up crime thriller, but set in the world of Mega City One. We follow two storylines: one being Dredd trying to solve the case, while the other being a judge going undercover, first as part of a gun-running gang. The group deals with a shady group of buyers looking for ancient equipment, like old tools and items like thumb screws. Of course, both of these threads come together quickly.
Smith has a knack for creating a layered story that will keep readers turning the pages until it's done. But he has also created some truly monstrous villains, and trust me: FINAL CUT is not for the squeamish. It's probably the darkest Dredd novel. Yes, it's that brutal and sadistic.
For fans of Dredd who feel leery about heading into a bookstore and plopping down money for this collection, don't. It's packed with more action than anything out there, while keeping in line with Judge Dredd's history. Even those who have never even read an issue will delight in all of his badassness. —Bruce Grossman