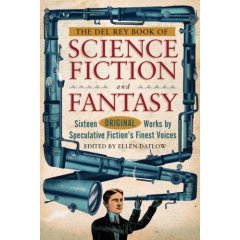 This is nothing against Del Rey, but certainly there had to be a better title for THE DEL REY BOOK OF SCIENCE FICTION AND FANTASY: SIXTEEN ORIGINAL WORKS BY SPECULATIVE FICTION'S FINEST VOICES. That wordy, generic moniker suggests the Ellen Datlow-edited anthology is generic and assembly-line, when quite the opposite is true: This is a standout collection deserving of a more standout title.
Its subtitle contains the most telling phrase – SPECULATIVE FICTION – as, admirably, the stories within don't fall neatly into either the standard sci-fi or fantasy genres. In other words, don't go looking for spaceships or elves. Instead, expect the unexpected.
Producing an anthology stronger than her recent steady-as-she-goes INFERNO: NEW TALES OF TERROR AND THE SUPERNATURAL, Datlow name-checks the likes of Harlan Ellison's iconic DANGEROUS VISIONS collection in her introduction as inspiration. It's perfectly apropos, as DEL REY's contents – mostly from newish writers – also play in that we're-not-playing-it-safe style. They push boundaries. They may leave you enthralled and/or bewildered, but at least they'll make you think and feel and react.
The heroine of Lucy Sussex's "Ardent Clouds" is Bet, a self-described "powdermonkey" who thrives on shooting footage of volcanic activity. She has a rep for showing up at the right place at just the right time. Her secret? The vibes received by her professor pal Spider, who senses seismological disturbances beforehand and can pinpoint the when and where.
Elizabeth Bear provides a moving glimpse into the rough-and-tumble life of a one-time real-life heavyweight boxer in "Sonny Liston Takes the Fall." It's one of those rooted-in-fact fictions so touching and well-written that it merits serious year-end awards consideration.
Nathan Ballingrud contributes my favorite piece of the whole with "North American Lake Monsters." In the Blue Ridge Mountains, a strange, stinking sea creature washes ashore and is examined by a man freshly out of prison and his estranged teenage daughter. The focus of the tale is not on the hulking lifeform of considerable mystery, but the man's emotional roller coaster as he attempts to readjust to "freedom" and heal his deeply wounded marriage. It's not easy, and his outbursts and actions lead the reader to question who the real "monster" of the title is.
In Maureen F. McHugh's "Special Economics," a young woman in China seeking independence lands a job at a biotech company that offers its employees room and board, but at such a price that they never can afford to quit. To lesser effect, Margo Lanagan reimagines the "Hansel and Gretel" fairy tale as "The Goosle," with a disturbing sexual bent ("Show me your boy-thing," the mudwife would say. "Put it through the bars").
A woman grieving for her late husband and son – who expired in an untimely plane crash – begins to see visions of them, which she relays in increasingly bizarre sessions to her therapist in Laird Barron's nightmarish "The Laggerstätte," one of the book's few horror-tinged efforts.
Fresh off a career high with the novel THE SHADOW YEAR, Jeffrey Ford files perhaps the most imaginative story of the bunch with "Daltharee," in which a scientist has created a miniaturized city in a milk bottle. After several months, his assistant – and our narrator –  begins to pick up conservations taking place between its microscopic residents.
Normally, the work of Pat Cadigan rubs me the wrong way, but "Jimmy" didn't. Perhaps it's because it finds her outside the realm of cyberpunk and into the one of nostalgia for a troubled childhood, which fantasists seem to tackle so well. Hers involves the unlikely friendship between a straight-A female student and an anything-but-studious boy making perennial rounds through social services, and the remarkable disappearance of the latter on the day of President John F. Kennedy's assassination in 1963.
Carol Emshwiller and Kim Newman mark two of the bigger names who also contribute to Datlow's anthology, but neither provides it with highlights. But the few stories that fall flat are practically rendered moot when one considers just how hard the climaxes hit. From the snapshot provided by this special collection, the state of speculative fiction is as inventive, challenging and vital as ever. –Rod Lott
OTHER BOOKGASM REVIEWS OF LAIRD BARRON:
• THE IMAGO SEQUENCE AND OTHER STORIES by Laird Barron
OTHER BOOKGASM REVIEWS OF ELLEN DATLOW:
• INFERNO: NEW TALES OF TERROR AND THE SUPERNATURAL edited by Ellen Datlow
OTHER BOOKGASM REVIEWS OF JEFFREY FORD:
• THE SHADOW YEAR by Jeffrey Ford
OTHER BOOKGASM REVIEWS OF KIM NEWMAN:
• HORROR: ANOTHER 100 BEST BOOKS edited by Stephen Jones & Kim Newman