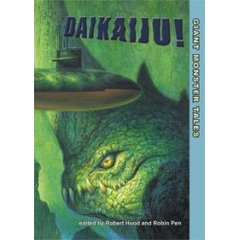 It's such a good idea, you wonder why it hadn't been done before. Fifty years after Japan was first decimated onscreen, we finally have an anthology of original fiction paying tribute to fire-breathing, foot-stomping, gigantic beasts of the silver screen: DAIKAIJU!: GIANT MONSTER TALES, edited by Robert Hood and Robin Pen, and published by Agog! Press in the land down under.
It's fitting the book begins from the viewpoint of a frightened child (in Doug Wood's "Lullabye"), since a majority of giant monster fans caught that love growing up, likely through Saturday matinees whether in theaters or on UHF channels. But from there, all bets are off, as the book constantly surprises. Unlike the all-formula movies from which these stories draw their inspiration, you never know what you're going to get.
Garth Nix tells the standard story of a monster invasion, but in a non-standard way: wholly through newspaper headlines. Showing love for the genre and a knowledge of its history, Andrew Sullivan's "Notes Concerning Events at the Ray Harryhausen Memorial Home for Retired Actors" imagines what life would be like in a nursing home when movie stars like "Ken Kong" are way past their prime. You also have to admire Iain Triffit's one-page slice o' sacrilege, "In Final Battle," in which CyberChrist, RoboRabbi and MechaMohammed all do battle, with the former employing his "rotating crown of thorns" as a weapon.
One of the more clever stories is Adam Ford's "Seven Dates That Were Ruined by Giant Monsters," in which the narrator details how his attempts at a love connection are forever severed by the sudden apperance of oversized creatures. It's my second favorite piece in the book, behind "Newborn" by Eric Shapiro (whose work in THE UNDEAD you also should catch). Played for laughs (and succeeding), it's an account of a man discovering that his in-labor wife has been unfaithful, because the doctors tell him she's giving birth to a giant bird.
Proving this isn't your average anthology, a few dollops of haiku from Sean Williams are sprinkled about, and the book closes with a "cinema supplement," comprised of a jokey (and perhaps too lengthy) screenplay by Frank Wu about a giant space chicken who directs his own films and an essay by Cinescape's Brian Thomas about the history of the giant monster on film, as well as its roots in literature.
You also get stories of an old man plotting to commit suicide via stomping, brave souls who meet to outrun the monsters for sport like Spaniards do bulls and theme park exterminators. Not everybody knocks one out of the park (a few strike out or merely manage to bunt), but there's enough variety among the nearly 30 contributions to offset the occasional dud. Don't let an unfamiliarity with the contributors put you off (going in, I knew of exactly two), as part of the fun is in being introduced to new talent. Along with ADVENTURE: VOL. 1, ALL-STAR ZEPPELIN ADVENTURE STORIES and the aforementioned UNDEAD before it, DAIKAIJU! is another example of why small-press anthologies are as exciting as anything out there. –Rod Lott