Yesterday, I spoke to an editor at a comic book publisher for whom I have written media tie-in projects, including an adult superhero novel that's seeking a publisher, and several kids chapter books coming out next year. He reported no success yet in selling the novel (it was to have been published in 2006, but the company's publishing partner went bankrupt), but said that not only was the kids series I had written two books for going to be continuing, but they were about to sign a contract for a new line based on a recently debuted animated show. "For some reason," he said, "kids publishing is still doing okay." (That, by the way, is a glowing report in today's publishing field.)
Since about the last decade of the 19th century, publishers have put a lot of energy into marketing to children (the creator of The Hardy Brothers and Nancy Drew was a man named Edward Stratemeyer, who ran an agency that provided dozens of children's book series written by countless authors under house names, all plotted and controlled by the agency). Even the mid-1960s Marvel (CAPTAIN AMERICA AND THE GREAT GOLD STEAL and THE AVENGERS BATTLE THE EARTH-WRECKER) and TV's BATMAN-related novels were, no doubt, expected to appeal to a young and teenage audience, no matter that the packaging seemed to be aimed at adult readers.
Today, there's still oodles of books directed at young readers. The tip-off to content these days — besides the big "The Junior Novel!" blurbs on the cover — is the oversized, 5.5" x 7.74", 150-page paperback package, selling at about $4.99. In 1992, the price was a bit lower, but the basic brightly illustrated cover around a chapter book that may (or may not) also feature illustrations or an insert of photographs if it's a movie or TV adaptation, was the same for a series of Batman chapter books published by Little, Brown.
I have four books in the series, one written by longtime comics scripter John Albano, and the others by such notables as Joe R. Lansdale, Neal Barrett Jr. and BOOKGASM's own Ed Gorman, who wrote the object of today's discussion: ROBIN IN: I, WEREWOLF, with cover and illustrations by MAD magazine's Angelo Torres. (What the hell? The secret is, these books used to be edited by the department overseen by the late, great Joe Orlando, an original EC Comics and MAD contributor for whom many great talents did some really strange commercial jobs.)
When a werewolf is loose in Gotham City, Batman and Robin swing into action to protect the citizens from these violent monsters. While Batman goes one way, Robin goes another and is drawn into the story of a teen whose scientist father had recreated an old Nazi serum capable of turning men into werewolves as part of his research into curing cancer. The serum feel into the wrong hands (wouldn't you know it — Dad had an evil, greedy lab assistant capable of murder in order to steal the serum) and it's up to the Boy Wonder to get it back and save the life of the teen the werewolf has already tried killing once.
I, WEREWOLF is a good story, moody and atmospheric and perfectly suited for its target audience. My only complaint would be that Torres' "Boy" Wonder often looked like he was about 22 years old, but otherwise, the artist best known for his satire and caricature did a fine job of illustrating this adventure story.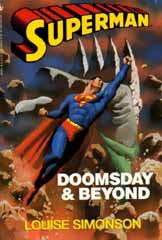 The big news of 1993 was the "Death of Superman," the nobody-at-DC-gave-it-a-second-thought story stunt (about the 11ty-gallionth time it had been done in the comics) that turned into a media sensation, thanks to the story breaking on an otherwise deadly dull news day. It sold 7.5 million copies of just the issue in which Superman actually died, followed by a yearlong storyline ending in his resurrection. I don't recall exactly how many comic books this stunt moved overall, or how much media interest it stirred, but it was massive. It helped fuel the whole early-'90s speculator bubble that nearly crippled the industry a few years later, too, but that's neither here nor there. What is is SUPERMAN: DOOMSDAY & BEYOND by Louise Simonson, illustrated by Dan Jurgens and José Luis García-López, and featuring a painted cover, the first work for DC Comics by a young Alex Ross.
Along with Roger Stern's THE DEATH AND LIFE OF SUPERMAN, the NEW YORK TIMES-bestselling hardcover adult novelization of this massive event, SUPERMAN: DOOMSDAY & BEYOND was part of DC's swift and impressive response to the unpredicted success of this story. (FYI: Simonson, Jurgens and Stern were all writers — and in Jurgens's case, penciler as well — on the "Death of Superman" issues of the comics.)
With a sure knowledge of her story, Simonson quickly sets up the status quo of Superman's world and introduces Doomsday, the alien killing machine who will (spoiler alert!) beat Superman to death as the opening act for our drama, and then follow through with the story of his so-called replacements and of how his loved ones and the rest of the world deal with his loss, especially when the next big threat arrives to threaten it. But all's well that ends in resurrection. and that's the (spoiler alert!) happy ending of this tale — a saga that took some 80+ comic book issues to tell, compressed into a single, highly readable 190-page kids book by the lovely Ms. Simonson.
In 1994, long before the success of their movie franchise, The X-Men had found a home on TV as an animated series. The series had, among its many episodes, adapted a popular X-MEN comics storyline: Byrne and Claremont's "Days of Future Past" (reprinted most recently in ESSENTIAL X-MEN: VOL. 2), which, in turn was novelized (with elements from another X-MEN story featuring the character Bishop) as X-MEN: DAYS OF FUTURE PAST, adapted by Vicki Kamida, illustrated by Aristides Ruiz and with a cover by Dana and Del Thompson.
In DAYS OF FUTURE PAST, the Kitty Pryde/Shadowcat's future self sends her mind back into her current-day self to warn The X-Men of a dystopian alternate future in which mutants are incarcerated in concentration camps. The X-Men hop into the future to prevent the moment in history that triggered the anti-mutant sentiments which lead to their internment and future misery. Whew!
A grownup reading DAYS OF FUTURE PAST will find it simplistic, but a peek at the back cover with the cryptic term "RL: 2.9" printed on it reveals the reason why: "RL" stands for "reading level," and "2.9" means it's written for kids reading at the level of late-term second to beginning-term third grade. (Some publishers take this stuff very seriously, providing writers with specific vocabulary lists to use and even running manuscripts through computer programs designed to determine reading levels.) Still, it gets the job done in a way a 7- or 8-year-old can understand, and while that means a lot of the story's emotional intensity is lost, well, kids don't really care about that stuff anyway. They want action and adventure, and this delivers. The art, on the other hand, is only so-so, and a slicker, more professional illustrator would have been appreciated.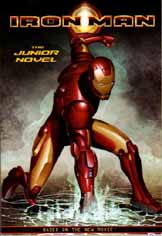 This summer's IRON MAN was, in my opinion, one of the best comic book movies made — certainly my current favorite, replacing the reigning champ of SUPERMAN: THE MOVIE after 29 years. The beauty of the film — besides pitch-perfect acting and characterizations, seemingly effortless special effects, and the tight package in which it is all wrapped up — is the simplicity of the story: a man brought down by his own ego finding redemption through service to the world. The subtlety of his unfolding salvation provides the adult viewing experience that drew all those hundreds of millions dollars to the box office. For the young 'uns, it was the coolness of a guy who's been knocked down by bullies, but gets back up to fight back and win.
And that's how it plays in IRON MAN: THE JUNIOR NOVEL by Stephen Sullivan, featuring eight pages of photos from the film. Sullivan is faithful to the screenplay, while downplaying many of the too-grown-up motivations that might confuse his younger readers. It is, as I say, a good story and difficult to ruin, and Sullivan brings the right tone and style to keep things moving at a brisk pace that should keep even the kids who have seen the movie enthralled.
Next time: Speaking of novelizations of epic comic book stories … —Paul Kupperberg
OTHER BOOKGASM REVIEWS OF ED GORMAN:
• A PRISONER OF MEMORY AND 24 OF THE YEAR'S FINEST CRIME AND MYSTERY STORIES edited by by Ed Gorman and Martin H. Greenberg
• THE ADVENTURE OF THE MISSING DETECTIVE AND 19 OF THE YEAR'S FINEST CRIME AND MYSTERY STORIES edited by by Ed Gorman and Martin H. Greenberg
• AMERICAN PULP edited by by Ed Gorman, Bill Pronzini and Martin H. Greenberg
• BLACK RIVER FALLS by Ed Gorman
• DEAN KOONTZ'S FRANKENSTEIN: BOOK TWO – CITY OF NIGHT by Dean Koontz and Ed Gorman
• DIFFERENT KINDS OF DEAD AND OTHER TALES by Ed Gorman
• FOOLS RUSH IN by Ed Gorman
• GHOST TOWN by Ed Gorman
• GRAVES' RETREAT by Ed Gorman
• GUNSLINGER AND NINE OTHER ACTION-PACKED STORIES OF THE WILD WEST by Ed Gorman
• INVASION OF THE BODY SNATCHERS: A TRIBUTE edited by Kevin McCarthy and Ed Gorman
• OUT THERE IN THE DARKNESS: THE COLLECTED ED GORMAN – VOLUME ONE by Ed Gorman
• SLEEPING DOGS by Ed Gorman
• THE WIDOW OF SLANE AND SIX MORE OF THE BEST CRIME AND MYSTERY NOVELLAS OF THE YEAR edited by Ed Gorman and Martin H. Greenberg
• WOLF MOON by Ed Gorman
• WOLF WOMAN BAY AND NINE MORE OF THE FINEST CRIME AND MYSTERY NOVELLAS OF THE YEAR edited by Ed Gorman and Martin H. Greenberg
OTHER BOOKGASM REVIEWS OF LOUISE SIMONSON:
• BATMAN: GOTHAM KNIGHT by Louise Simonson
• DC COMICS COVERGIRLS by Louise Simonson