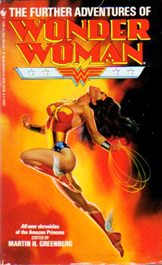 Not to get all curmudgeonly on y'all, but back when I was a boy and comic books were 12¢ (25¢ for the 80-page giants), just about every issue of most everything (except for some Marvel Comics) was an anthology, with two, three and (sometimes) four stories, at least one featuring the lead, like Superman in ACTION COMICS and Batman in DETECTIVE COMICS, and the rest dedicated to a steady stable of secondary characters.
DETECTIVE, for instance, could always be counted on for some good ol' sleuthing action with a twist, with strips like Roy Raymond, TV Detective; J'onn J'onzz, the Martian Manhunter; or Elongated Man, among others. Even SUPERMAN and BATMAN, which were all-title-character-all-the-time, featured multiple stories in every issue until well into the 1960s.
Nowadays comics are all continued stories, novels that never end. But there's something to be said for the short story. They're little bits of time suspended in a form quickly digested and immediately felt, a look through a peephole at events unfolding as opposed to the panoramic sweep of a novel. Both tell stories, just on different scales.
Stories about superheroes tend to be epic, as befitting these costumed gods. Of course, the mightier the hero, the more they might benefit from the deeper, more immediate examination possible in the short story … which brings us to none other than tales of an actual (comic book) goddess in 1993's THE FURTHER ADVENTURES OF WONDER WOMAN, edited by super-editor Martin Greenberg, one of half a dozen he packaged for DC Comics at the time. Fronting the volume's eight stories is a lovely painted cover by Joe DeVito (the man who was DC's Alex Ross before they had Alex Ross).
Considering Wonder Woman's enduring popularity (she is one of only three superheroes to survive being published in their own titles uninterrupted from her beginning in the Golden Age to modern times, with Superman and Batman being the others), she has appeared in prose far less often than the Man of Steel and the Dark Knight, with only this collection and two novels to her credit. Still, while there may not be much, what's here is choice.
Half the selections were written by women, including one story by Mindy Newell, one of the few women to have written the WONDER WOMAN comic book up until that time. Newell weighed in with "Somebody's Baby," in which Wonder Woman finds a newborn girl abandoned in a Dumpster and struggles to come to terms with the bureaucratic response to this very human and emotional event. Princess Diana's first instinct is to take the child with her to Paradise Island and leave her for the Amazons to raise, but American law demands she deliver this helpless child who already spent part of her first days alive in the trash has to be delivered into the hands of Family Services. Nary a punch is thrown in the story, but the true soul of a superhero is laid bare. Also in this volume are Joey Cavalieri, Karen Haber, Will Murray, Pamela Sargent, Elizabeth Ann Scarborough, Henry Slesar and Edward Wellen.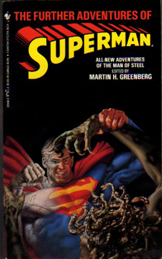 Also in the Greenberg-edited series was THE FURTHER ADVENTURES OF SUPERMAN (the other four were Batman titles), with 10 all-new tales and a framing device by Dave Gibbons (better known as the artist of WATCHMEN, but a good writer as well). Several names repeat in the credits (Cavalieri, Haber, Murray, Slesar and Wellen — not that that's a bad thing, as these are all writers who know their stuff) and are joined by Diane Duane, Garfield Reeves-Stevens, Mike Resnick, Paul Witcover, Elizabeth Hand and Mark Waid. The latter was, even at the time, a seasoned comics professional with his best known work — DC's KINGDOM COME with the aforementioned Ross — still three years in the future, but with limited prose-writing experience.
In "Forget Me Not," a trio of supernatural beings — call them Fates, Muses, Witch Queens — decides it is worth the expenditure of much of its magical power and capital to attempt to corrupt the smallest sliver of Superman's soul by manipulating events so that he is forced to make a selfish decision. This smallest of cracks is worth every bit of power expended to create "a chink in his armor that might someday be further expanded to suit our ends." But even attacking the very thing he holds dearest — the love and memory of Lois Lane — the cruel fates are unable to turn the Man of Steel against his core beliefs. As long as Lois is truly happy in a new life, even if it doesn't include him, Superman chooses her happiness over his own. Waid, always adept at finding the heart of a character and exploiting it in his work, delivered the goods here, along with the majority of his bookmates.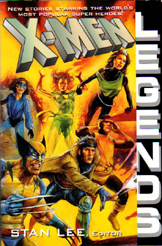 In 2000, Marvel hit the bookstores with X-MEN: LEGENDS, edited by Stan Lee and featuring 13 short stories, a nicely painted cover by Vince Evans, illustrations by Mike Zeck, and, of course, an introduction by Lee. Marvel has always seemed to have a more aggressive program of prose fiction than its distinguished competitors, and X-MEN: LEGENDS is one of the dozens of books produced under a deal with Byron Preiss' BP Books (currently producing Spider-Man, X-Men and Wolverine novels with Pocket Books). Less even than the Greenberg books in quality, LEGENDS includes writers Keith R.A. Candido, Steve Lyons, Michael Stewart, C.J. Henderson, Glenn Hauman, Sholly Fisch, Dori Koogler, Thomas Deja, Jennifer Heddle, Ashley McConnell, K.A. Kindya, Robin Wayne Bailey and Brian K. Vaughn.
Vaughn (Y: THE LAST MAN) was the only active comic book writer in the group (although one or two others dabble), and his "Every Time a Bell Rings" takes on the plight of 16-year-old Warren Worthington III, aka the high-flying Angel, then a student at the non-mutant St. Ignatius Academy. Warren knows "puberty isn't easy for any kid, but molting wasn't exactly something they covered in health class," and hides his 12-foot wingspan beneath his street clothes (suspension of disbelief on all levels is necessary with most superhero prose). He doesn't want to stand out, but when classmates begin being murdered, he has little choice, especially when a second mutant turns up in the mix.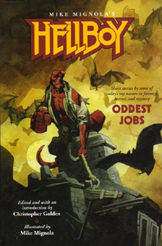 Mike Mignola's HELLBOY has proved itself an enduring pop-culture fixture with countless comic books, two major motion pictures, some 10 novels, and — with this year's HELLBOY: ODDEST JOBS edited by Christopher Golden — three anthologies (following ODD JOBS and ODDER JOBS). The comic book writers of the world are given short shrift in this gathering of 14 authors, including Mark Chadbourn, John Skipp, Cody Goodfellow, Ken Bruen, Garth Nix, Brian Keene, Tad Williams, Amber Benson, Barbra Hambly, Gary A. Braunbeck, Rhys Hughes, Stephen Volk, Don Winslow, China Mieville and Joe R. Lansdale … not that it's mandatory, of course, to use crossover talent. It's more that I'm pleasantly surprised at how often writers I like from comics are successful at prose.
Lansdale, who has written a couple dozen comics (JONAH HEX, CONAN), but is primarily known as a novelist (LEATHER MAIDEN, LOST ECHOES), is obviously enough of a fan of the material to know his way around a comic character in prose, as he proved in a couple of Batman novels several years back. Here, he delivers "Jiving with Shadows and Dragons and Long, Black Trains," a title that while not rolling trippingly off the tongue, fronts a wonderful little tale about … well, long black trains, dragons and shadows — dragons that drag people unwilling off into the long, black train that chugs into town from out of nowhere, that is. Just the sort of case for Hellboy and his compatriots of the Bureau for Paranormal Research and Defense. Lansdale tells the story from various and often unexpected points of view, including excerpts of Hellboy's report on the incident and the description of a dynamic splash panel from a HELLBOY comic book. There's a lot more good reading all through this volume.
Next: Stop the presses! It's novels based on newspaper strips! —Paul Kupperberg
OTHER BOOKGASM REVIEWS OF CHRISTOPHER GOLDEN:
• BLOODSTAINED OZ by Christopher Golden and James A. Moore
• FOUR DARK NIGHTS by Bentley Little, Douglas Clegg, Christopher Golden and Tom Piccirilli
• THE HISS OF ESCAPING AIR by Christopher Golden
• THE MYTH HUNTERS: BOOK ONE OF THE VEIL by Christopher Golden
OTHER BOOKGASM REVIEWS OF MARTIN H. GREENBERG:
• A PRISONER OF MEMORY AND 24 OF THE YEAR'S FINEST CRIME AND MYSTERY STORIES edited by Ed Gorman and Martin H. Greenberg
• THE ADVENTURE OF THE MISSING DETECTIVE AND 19 OF THE YEAR'S FINEST CRIME AND MYSTERY STORIES edited by by Ed Gorman and Martin H. Greenberg
• AMERICAN PULP edited by Ed Gorman, Bill Pronzini and Martin H. Greenberg
• THE BEST HORROR STORIES OF ARTHUR CONAN DOYLE edited by Frank D. McSherry, Martin H. Greenberg and Charles G. Waugh
• NIGHTMARES ON ELM STREET: FREDDY KRUGER'S SEVEN SWEETEST DREAMS edited by Martin H. Greenberg
• THE REEL STUFF edited by Brian Thomsen and Martin H. Greenberg
• THE WIDOW OF SLANE AND SIX MORE OF THE BEST CRIME AND MYSTERY NOVELLAS OF THE YEAR edited by Ed Gorman and Martin H. Greenberg
• WOLF WOMAN BAY AND NINE MORE OF THE FINEST CRIME AND MYSTERY NOVELLAS OF THE YEAR edited by Ed Gorman and Martin H. Greenberg