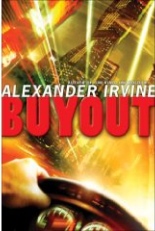 Alexander Irvine is an absolutely unique voice in speculative fiction. So many of the great voices in the genre are rooted in the action/adventure mold that the few who dare not to have sexy cyborgs or interplanetary warfare or awesome time travel tend to get lost on book shelves. Irvine's latest, BUYOUT, even has a cover reminiscent of Richard K. Morgan's MARKET FORCES, even though murderous car-to-car combat is about the furthest thing from what BUYOUT's about.
Like THE NARROWS before it and, really, all of Irvine's books, BUYOUT is a story about morality, ethics and personal relationships — friendship, family and marriage.
The setting surely makes it science fiction, and this is his most science-fictiony book to date. BUYOUT's set in a world with near-ubiquitous computing, where 99.9 percent of everything is monitored electronically, and L.A.'s fringe elements try their best to move from one surveillance-free dead zone to the next. But that's not the real story. That would be the life and times of Martin Kindred, a lawyer hooked by a lucrative and morally gray new business plan: life-term buyouts.
Prisoners serving life in prison agree to be executed in exchange for a lump sum of money that's a fraction of what it would cost to imprison them for the rest of their natural lives. Despite the obviously sleazy couple masterminding the operation and a fairly vocal public outcry, Kindred justifies working on these buyouts as being morally in the right, and it's this initial justification that sends his life into a slow, downward spiral that's obvious to readers, but not Kindred himself.
As he alienates everyone in his life, it becomes obvious that more sinister things are afoot, and a nifty little mystery ensues. There aren't any huge gunfights, railguns, singularities or any of the other cool stuff that's happening next door to BUYOUT on the science-fiction shelves, but what Irvine's book has that nobody near him has is the uncanny ability to pinpoint the exact moments when human relationships start to unravel and then chronicle that unraveling to the furthest agonizing extent.
This does inspire a but of a love-hate relationship between the reader and the novel. It's hard to read sometimes because we know things are probably not going to work out, but Irvine adds just enough mystery and noir-style gumshoe styling to keep us on the hook, wriggling, until BUYOUT gobbles us up. —Ryun Patterson
OTHER BOOKGASM REVIEWS OF THIS AUTHOR:
• THE NARROWS by Alex Irvine
• THE SUPERNATURAL BOOK OF MONSTERS, SPIRITS, DEMONS, AND GHOULS by Alex Irvine
• THE VERTIGO ENCYCLOPEDIA by Alex Irvine