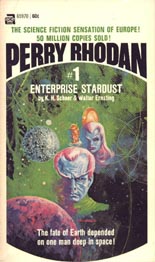 Let's take a trip in my rocketship. You are going to the great beyond this time out as I cover some old-school science-fiction action. Kicking things off is a series that is still continuing in its origin country, so get your space helmet, kick back and wait for the countdown. I just hope you don't suffer any "space madness," you eediot!
PERRY RHODAN #1: ENTERPRISE STARDUST by Karl Herbert Scheer and Walter Ernsting — Growing up, I was a sci-fi fan. I still am — just not as strong a one as I was in my teen years. Back then, I would always come across the PERRY RHODAN series, which is so long, it has more than 100 paperbacks. The problem is I never found a jumping-on point, aka book number one, until now.
Even though the series ended over here years ago, it's still going strong in its home land of Germany. This first entry is okay. I mean, it must get better for the series to keep on going. But the epic space opera's 1969 debut does not amount to much.
We are introduced to Perry Rhodan, the commander of a nuclear-powered rocketship, and his crew. The bulk of the story deals with their ship landing on the moon, but with serious issues. As they try and contact Earth, to no avail, they discover another spaceship on the moon. It turns out to be aliens called the Arkonides, who provide technology to Rhodan that can change things globally.
Rhodan knows that it's a game changer and takes matters into his own hands, which then leads into the following book and what the series will become. I'll revisit Rhodan — sure, it's not Arthur C. Clarke or Robert Heinlein, but I just want some pulpy sci-fi fun.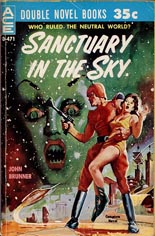 SANCTUARY IN THE SKY by John Brunner — Something was gnawing at me the whole time while reading this 1960 book. Then it clicked: This book was totally ripped off by STAR TREK: DEEP SPACE NINE. The idea of place called the Waystation, a synthetic planet that could shift power between these two giant waring factions, the Cathrodynes and the Pags.
They both think of themselves as the true conquerers of the universe, but need the Waystation to finally take complete control. What's standing in the way are the caretakers of sorts of the Waystation, the Gaithians. The story really deals with the infighting between these two groups and how to get the upper hand. Throw into the mix a mysterious stranger named Lang, who seems to know a lot about the Waystation, but keeps it to himself while frustrating the Gaithians at every turn.
Brunner does a great job of keeping the surprises until the very end when all is revealed about what is going on and who Lang really is. This is essentially a Western in space, but instead of two families fighting over a town, it's two alien races fighting over a planet. The political aspects and how the races treat one another is one that will keep the reader turning the pages.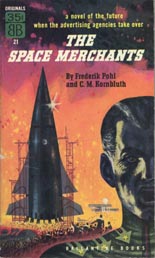 THE SPACE MERCHANTS by Frederik Pohl and C.M. Kornbluth — Ad agencies run the world. That's the premise of this 1953 classic, a book I would constantly look at in my youth, but just never picked up. I was too busy buying the latest from Alan Dean Foster, most likely.
Mitch Courtenay is an advertising man on the rise. He has been given the biggest job of his life: convincing people to move to Venus even though it's going to be a rough life for many a year until everything is terraformed. Mitch is up for the challenge, but as soon as he settles into his new position and starts making some changes, there is a swerve you don't see coming. Courtenay's whole view is changed, and it becomes apparent to him not everyone he has known are really who they say they are.
The book dives into industrial espionage with Mitch becoming a chess piece. This is a blast of a novel that still seems rather relevant in today's times. Pohl and Kornbluth really give the ad agencies a run for their money; we witness how devious these people can be through some of their campaigns. The best way to sum up the book to today's audience is rather simply "MAD MEN in space." It is the same cold, calculating world of Don Draper, just with less sex. —Bruce Grossman