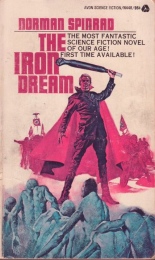 Welcome back, my friends, to the column that never ends. You're in for a treat, because I finally got my hands on a book I've been on the hunt for, so I figured I might as well share my thoughts, while also revisiting two other authors of note. So let's kick things off with that science-fiction author of note, Adolf Hitler.
THE IRON DREAM by Norman Spinrad — This 1972 book will definitely divide readers. There will be those who will see it for the brilliant satire that it is, while others will find the subject matter a bit disturbing. THE IRON DREAM is a book within a book. The basic premise is that it takes place in an alternate history, where instead of becoming dictator of Germany, Adolf Hitler moved to New York after World War I to became a painter for pulp magazines and then a much-loved sci-fi author.
Hitler's crowing achievement is "Lord of the Swastika," which we get to read. Are you with me so far? Therein lies the brilliant satire. The story itself is set in 1142 AF, which stands for "After Fire," a giant war of sorts that has left most of the planet contaminated by radioactivity and the bulk of humans now considered mutants with a wide variety of abnormalities.
"Swastika" tells the rise of one Feric Jaggar, who returns to his homeland and wants to bring humanity back to its purest form. We watch as Jaggar slowly takes power for himself and rises within the world of politics. Anyone who knows anything about Hitler, World War II or the Holocaust can totally see where Spinrad is going with this. The great thing about THE IRON DREAM is how he plays it so straight throughout, never giving a wink to the reader, to the point where a critical afterword delves further into the alternate history.
Obviously, this book is not for everyone, because even though it truly is satire, some might not see the humor. At one time, this novel was very easy to come by at used bookstores, but sadly, it's become harder and harder to find, like a lot of other Spinrad books I've read, including BUG JACK BARRON, OTHER AMERICAS and LITTLE HEROES. If you do find them, they don't come cheap, but Spinrad has slowly been putting his works out on e-readers like the Kindle.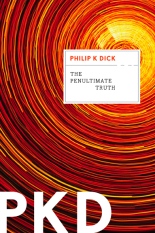 THE PENULTIMATE TRUTH by Philip K. Dick — I've always wanted to read more of Philip K. Dick's novels. The main stumbling block for me were the truly god-awful covers from a few years ago — the ones that looked like they were designed on a Commodore 64. Thankfully, the novels are getting much-needed facelifts that go with a more subdued and minimalist cover.
Having read the bulk of Dick's short stories, it kind of surprised me that 1964's THE PENULTIMATE TRUTH is, in essence, a reworked and expanded version of the short story originally called "The Defenders." We begin in an underground bunker that is occupied by people still living in a world where World War III is still taking place. The bulk of the fighting is handled by robots called "leadies," and every day, the people down in the bunkers are inundated with government propaganda about how the fight it going and how they are doing their part.
The president of this bunker, Nicholas St. James, is thrust into a job no expects he'll return from: He needs to head out onto the surface to look for medical supplies to cure their lead mechanic. It's once outside the bunker that James makes a discovery he just can't believe: the truth behind the war. Not to spoil any plot points, but those familiar with any of Dick's work can figure out what's to come.
The book in general is straightforward and is filled with some ideas we've come to find in other works of Dick: time travel, distrustful governments, robots acting on their own, and conspiracies aplenty. THE PENULTIMATE TRUTH is a perfect entry into Dick's larger work, but those who have read the short story might feel just a bit cheated.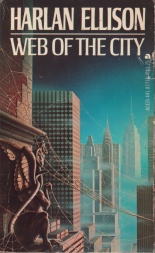 WEB OF THE CITY by Harlan Ellison — From 1958, this is the first novel Harlan Ellison ever had published. And as he writes in the introduction to this copy, he sometimes wishes he pulled an Ernest Hemingway of throwing it into the ocean so no one could read it. He also details how the book came to being, as it was written mostly at night while he was in basic training.
The story itself is somewhat standard juvenile-delinquent fodder. There is nothing mind- blowing or game-changing to the story, which focuses on Rusty Santoro, the former president of the Cougars. At the start of the book, we find out he is trying to quit, but the gang won't hear it. The story moves along with the requisite showdown between the gang and Rusty, until he finally proves himself in one last stand, after which the gang leaves him alone.
But that's only half the story. The rest deals with Rusty's sister, who is raped and murdered right outside the gang's clubhouse. Rusty makes it his mission to track down the culprit, while also coming to terms with his former gang life.
WEB is filled with gang slang, a rumble and the requisite cops breaking things up. The climax shows what talent was about to really shine, once Ellison started work in the science-fiction genre. Supposedly, he went undercover to do research on real-life gangs in Brooklyn, but it's pointed out clearly on the first page that Ellison and Rusty are not the same person.
What I did not realize until I was halfway through is that it's being reissued by Hard Case Crime. Their version will be the definitive volume, since it will include three short stories that tie into this world. I'm assuming that they probably take place before the events of this book, and hopefully, the very self-deprecating introduction will be included, because it's a hoot.
But, sadly, I'm guessing the ad in the back is no longer valid and that's to join the Harlan Ellison Record Club. That's not a joke. —Bruce Grossman