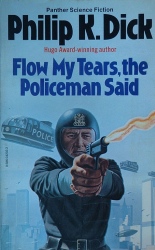 Hell has frozen over, because I'm now an Amazon Kindle owner. Over the years, readers have noticed me being very adamant about owning real books, not some overgrown calculator. But I recently moved states, and a close friend of mine gave me a Kindle as a going-away gift, and it was very easy to fill it up with tons of ebook. So this (and most likely the next few columns) will focus on some Kindle reading (not all official), starting with an author who probably would have embraced this technology like no other.
FLOW MY TEARS, THE POLICEMAN SAID by Philip K. Dick — Jason Taverner is a singer/TV host is a well known celebrity who has 30 million people turn to his show on a weekly basis. After his latest show, he is contacted by a former flame who wants him to visit. Once he arrives, this former lover throws some sort of parasite onto Jason. But as he tries to remove the parasite, some of it has completely gone inside him.
He is saved and is taken to a hospital. The next day, Jason awakes in what can be best described as a flea-ridden hotel. Where he has no identification, but worst of all, no one seems to know who he is. I'm not talking a select few; it seems Jason has been erased from all of society. But how can this be? And in this future, where the police and military run the world, it becomes quite the problem, since with no I.D., Jason could easily be sent to a labor camp where there is no escape.
This 1974 book is Dick at his pinnacle for long-form novels. It hits upon all the themes you would find in other Dick books: the paranoia, drug-taking, alternate realities and, of course, a dystopian future. Jason works his way through this world while getting help from a variety of people such as a counterfeiter, a telepath, a potter and a relation to a high-ranking police officer.
The story takes it time to reveal the truth behind Jason's predicament. Dick seems to hit all strides in this type of story, since in his later books, the paranoia aspects would take hold and it showed.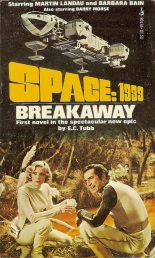 SPACE: 1999: BREAKAWAY by E.C. Tubb — Ah, 1970s television and their love for soft focus. In my youth, if a TV show had spacecraft and aliens, I was there no matter what. So I took to SPACE: 1999 like my classmates. It was one of those shows that would always pop up on a Saturday early evening.
The one thing I remember most besides the cool-looking ships and those two people from MISSION: IMPOSSIBLE was there was one alien which freaked me out the most: the giant, green-like seaweed creature with the one eye. Scared the willies out of me.
But now that I have a Kindle, I'm discovering there was a whole series of books based on the series itself, the bulk being adaptations of various episodes while later novels would be totally original. This 1975 title is the first in the series and actually is four episodes reworked into one story. And it works rather well while delving into certain characters' backstories that we never knew, with the three leads from the series getting the best characterizations.
The four episodes in question are "Breakaway," "Matter of Life and Death," "Ring Around the Moon" and "Black Sun." Now, not all of the plots are used. Tubb reworks these stories to make a sort of cohesion that carries through the story. To go into details would be like capsule information that you would have found in a TV GUIDE. But we see the moon lose its orbit, the finding of a planet that they might be able to colonize, and the encounters with superior aliens that can take any form, including long-lost people.
It's nice to have all the SPACE: 1999 books now on my Kindle. Now only if there were some old BATTLESTAR GALACTICA novels. Wait, there are! Score. Those will be covered in a future column. Trust me.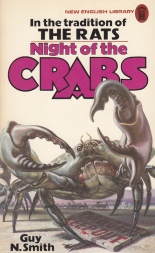 NIGHT OF THE CRABS by Guy N. Smith — Closing out this Kindle-centric column, I am reviewing an author that is a favorite of the friend who gifted me this Kindle. He is a huge fan and owns a ton of these now very pricey paperbacks. Look, it's real simple what this 1976 book is about. There is no hiding the fact. It's about giant crabs that attack an English seaside. That's it. There is no deep meaning or subtext. Its literally just page upon page of giant crab attacks.
This is the stuff that the show GARTH MARENGHI'S DARKPLACE is making fun of. Now that's not to say the book is not loads of fun. Oh, it's a blast and truly a head-scratcher of sorts, since Smith would mine this subject in six more books and a few short stories. The main characters are there just to move the plot along to each attack, with the Army, of course, not believing that giant crabs exist.
It's typical 1950s-horror type of mentality that you can see in pretty much every Bert I. Gordon movie, but Smith goes the extra mile with the gore and for some reason there is a requisite sex scene in the middle of all of this. I've got one other CRAB book on my Kindle which I'll probably read real soon since they are seriously so over-the-top and goofy you just can't fault the fun in them. —Bruce Grossman