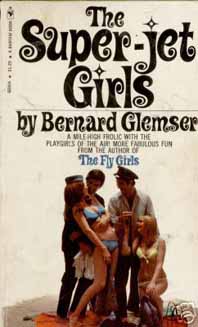 I suffer for you people sometimes. Don't believe me? Stay tuned. I tried to read four books for this column, but as you'll soon see, I had to give up on one of them, and felt like giving up on two of the others. Strangely, the best one of the bunch probably has one of the worst covers that I've featured. So let's get this round of pain over with…
THE SUPER-JET GIRLS by Bernard Glemser – I try and pride myself that any book I start, I'll finish. But this week, I hit a wall called THE SUPER-JET GIRLS. Look at the cover and learn a lesson: Chicks in bikinis in quasi-stewardess costumes look so tempting, but this book is an utter bore. I could not make it past the first 100 pages, with 200 left to go. It beat me. Nothing happens at all; you think it's going to be some sort of sex-filled romp. I could care less what the "life" of these stewardesses is. Maybe I should have picked up COFFEE, TEA OR ME? instead.
BIMBOS OF THE DEATH SUN by Sharyn McCrumb – Stop snickering. I know this 1988 title sounds like some sort of goof, but actually it's more potshots at fanboys of sci-fi cons. This book deals with a convention where a boisterous author is shot dead, and he happened to be the world's biggest prick, especially to his fans. We're introduced to a engineering professor who wrote a book with the lurid title up above.
But this has nothing to do with bimbos – just sunspots affecting computers or some crap. There is a Scottish folk musician on tour and staying at the hotel who is just blown away by what's going on, and there's the cop who has to solve the crime, but thinks it's just a big laugh. Can't blame him; I would, too, after fielding questions from people dressed like Vikings and the crew of the Enterprise. The plethora of fanboys will make you flashback to the one or two conventions you might have gone to in your youth.
The mystery per se is about as complicated as a Encyclopedia Brown story. I actually remember seeing this when it came out and wondering why TSR – the makers of Dungeons & Dragons – needed a book division. A huge problem is that it sounds so dated with the ancient computer technology, and also knowing full well that STAR TREK would come back and STAR WARS would be made into a joke. At least DR. WHO is not mentioned, and that's always been cool in my book. (Series 2 has been a blast so far.)
BARON SINISTER by Joseph Milton – This 1965 book is part of the Bart Gould series, which I'd never heard of. It's also the worst kind of spy fiction: a by-the-numbers tale of espionage, where nothing of interest happens, yet you can figure out how it all ends halfway through. Then there are the old standbys peppered in: the femme fatale, Germans who want the old days back, lame sex scenes and, of course, the friend of the spy who turns up dead.
The basic plot is that five Americans with ties to the government have turned up missing or dead in Europe. Bart Gould is a one-man spy force with no allegiance to any agency, although we're led to believe he works only for the President. Reading this was about as interesting a pamphlet – just bland, and that's what makes me mad. Come on, throw in a monkey wrench no one expects! Maybe this is why I like the Nick Carter and Sam Durell series. They at least try.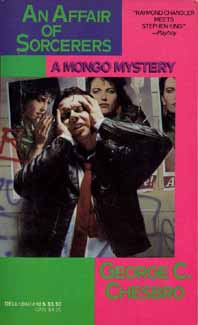 AN AFFAIR OF SORCERERS by George C. Chesbro – What a god-awful color scheme for a book cover, just screaming "the 1980s!" in huge Esprit-type letters. If I came across it, I probably would have just put it back down. But it has witches, warlocks, evil covens, faith healers, brainwashing, Chinese war criminals and a senator. Talk about a jam- packed mystery! Actually, there are three mysteries in this book, all to be solved by a Ph.D. in crime who's an ex-circus performer and a black belt to boot. Did I mention he's also a dwarf?
This is the third in the Mongo series featuring Robert Frederickson aka Mongo the magnificen, and it was just a blast to read. The three mysteries deal with a fellow colleague that might be using college funds for his own design, a faith healer accused of murder and a search for a mysterious book that his neighbor has stolen. This leads to a world of the occult like no other with a super coven of witches and warlocks. Chesbro's writing is tip-top and the whole dwarf gimmick is not abused for a cheap laugh. Through the whole book, all I could see was Peter Dinklage of THE STATION AGENT doing all this. If you are tired of the whole he-man detective persona, ttry one of these. I was pleasantly surprised and you will be, too. I just wish mine had a cooler cover so I wouldn't feel like I needed a Members Only jacket while reading it.
Next week, this column goes to Helm. –Bruce Grossman
Buy them at Amazon.
Discuss it in our forums.
MISS EARLIER INSTALLMENTS OF 'BULLETS, BROADS, BLACKMAIL & BOMBS'? REGASM THESE:
#10: Spaghetti Westerns, Pulp-Style
#9: Me Tarzan, You Remo
#8: Spillane … 'Nuff Said!
#7: Still No Martini Drinkers Here
#6: No Martini Drinkers Here