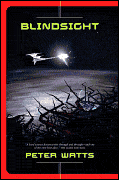 Some readers need this caveat before picking up a Peter Watts book: Watts takes his science really, really seriously. He's also not concerned with conventional notions of pacing and plot. BLINDSIGHT, his newest, is no exception.
A disparate crew of scientists and specialists (each with his or her own elaborate backstory and motivations) is dispatched to survey the first-ever alien craft discovered, and as they unravel the mysteries behind the ship, their motivations are laid bare, setting the scene for an emotionally draining finale.
The alien ship is also absolutely deadly, emanating a lethal cocktail of radiation that plays with their senses and generally drives them nuts, imagining things and making them second-guess their every fear. If that weren't bad enough, the humanity of the future that Watts envisions has brought back an evolutionary dead-end that science has resurrected: vampires.
One of these creatures is among the crew, though he has to take anti-Euclidian medicines to keep from going into a seizure every time he sees a right angle. Between the bloodsucker and the aliens, everything reaches a breaking point, and as all goes to hell, the crew members have to battle their very natures as well as the menace confronting them.
This sounds really awesome, and it is. But less patient readers won't think it's awesome that 80 percent of BLINDSIGHT is setup — exploration and exposition on the lives of the characters and the science behind every single aspect of the world Watts has hypothesized. It all pays off in the denouement, thank goodness, but those unaccustomed to the author's other novels might be tempted to call things off halfway through.
To this, I say: Finish it! The rewards are worth the investment, and Watts' dedication to hard SF is something to be rewarded, and as an added bonus, the science behind the book's premise is outlined in a detail-savvy, footnoted afterword that lets readers understand exactly what they just went through. So if you've got the patience and the willpower to wade into some heavy science and truly character-driven plotting, BLINDSIGHT is the only book you should be reading right now. –Ryun Patterson