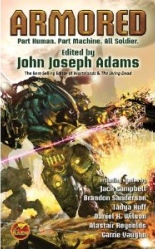 Science fiction's concept of powered, protective armor has been around for so long (dating back at least to Robert Heinlein's 1959 classic, STARSHIP TROOPERS) that it's a wonder no one thought to compile an original story anthology on the concept sooner. But as noted in his introduction, veteran genre anthologist John Joseph Adams' ARMORED is the first of its kind. It proves itself well worth the wait, in a few rather unexpected ways.
 
Not surprisingly, several of the stories included are military-based science fiction. In "The Johnson Maneuver" by Ian Douglas, a very prolific author of such tales, an armored suit allows a Marine to single-handedly confront an unruly mob of aliens mounting a possible attack on Earth's embassy building on a distant planet. In Tanya Huff's "You Do What You Do," a Marine officer utilizes her armored suit to power an abandoned mining vehicle and save her crew from an alien attack.
Then Adams mixes things up a bit with "Human Error" by John Jackson Miller, a downright funny story of a squadron of Earth soldiers battling a disgusting bubble-spore entity progressively digesting their base. The soldiers' hopes rise when a shipment of armored suits finally arrives, only to discover that their HQ sent out suits intended for an entirely different species. It's a rare example of humor in otherwise deadly serious military sci-fi, and a welcome relief from might have been an overdose of broad heroics and "hoo-aah!"s.
The diversity continues with such inclusions as David D. Levine's "The Last Days of the Kelly Gang," which speculates what the notorious 19th-century outlaws might have accomplished with some advanced technology. Similarly, Carrie Vaughn imagines how such mechanics might have been used during the Spanish Civil War in "Don Quixote."
 
The 23 total tales include works from Jack Campbell, Alastair Reynolds, Brandon Sanderson and others. Orson Scott Card provides a foreword wherein he recalls his attraction to the concept and then suggests that all of us at one time or another are attracted to the metaphor of "armor." Brief biographical information on the contributors is provided at the conclusion of each entry.
 
Until someone else takes a stab at it, ARMORED stands as the definitive anthology of its kind. Keeping that in mind, as well as the more recent popularizations of the concept (the IRON MAN movies, G.I. JOE and the HALO video games, to name a few) it's a relevant, entertaining, and altogether worthy addition to any serious sci-fi reader's collection. —Rod Lott