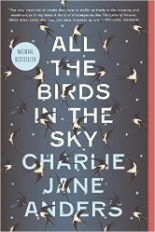 Patricia Delfine and Laurence Armstead are the Romeo and Juliet of Charlie Jane Anders' 2016 novel, ALL THE BIRDS IN THE SKY, now published in trade paperback. But rather than belonging to two warring families, these star-crossed lovers are from the co-existing future worlds of magic and science. Their destines are revealed to us only after we watch them grow from adolescence to adulthood.
As a child, Patricia knew she was different from other children when she discovered she could talk to birds. Similarly Laurence knew he was different when he invented a wristwatch time machine that transported him a few seconds into the future.
These two young outcasts become friends at school, eating their lunch together away from the other kids.
As the years pass Patricia joins a society of witches and learns the extent of her magical powers. Laurence becomes part of a hipster technological start-up working on a secret project aimed at humanity's future. But they continue to confide in each and eventually become lovers.
Then a series of natural disasters throws the world into chaos. Laurence and Patricia are forced to choose sides; calling upon their unique gifts to save the planet and all mankind.
Anders shifts the focus between Patricia and Laurence in separate chapters as the novel progresses. Yet the events as well as the lives of the two protagonists constantly overlap with only a minimum of repetition.
Anders eventually introduces the theme of aggrandizement and cleverly shows how it affects the different worlds of her main characters. Patricia is constantly warned by her mentors not to take full credit for the magic she creates; whereas Laurence's Silicon Valley co-workers crave and seek such acknowledgement for each of their accomplishments.
Anders's ear for dialogue is sharp and credible. She additionally demonstrates the kind of deep insight into the growing pains and struggle for self-discovery of her lead characters rarely found in either science fiction or fantasy novels.
There are moments, however, when the two personal struggles seem to dominate the plot to the extent where we almost forget that this is a tale of magic versus science in a near-future world. Eventually we are reminded of the surrounding world events that force Patricia and Laurence to retreat into their individual societies.
Anders, a former editor of the popular science fiction/fantasy web site io9, knows her genres. But she is also an experienced author and aware that our fascination with characters helps attract and retain our involvement with the speculative events. The balance is sometimes uneven, but we know as much about her two leads as we do the worlds they occupy and the events that affect both of them.
ALL THE BIRDS IN THE SKY is highly recommended not only for its character depth but also as an example of how science fiction and fantasy, often mutually exclusive, can combine and carry both genres into new, unexplored areas. —Alan Cranis