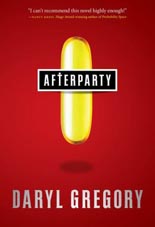 Daryl Gregory isn't exactly unheralded. His first novel, 2008's PANDEMONIUM, imagined an alternate America where demon possessions emerged as pandemic. The novel was sly, but never smirky, grounding its Philip K. Dick-ian high concept in careful character sketches — a virtue found throughout Gregory's work — and it won the Crawford award and a crowd of critical cheers.
Each novel since has ended up in serious contention for major genre awards, and each has run out on the high-wire, taking old shoes (genetic mutations, zombies) and dancing with extravagant, earned confidence in his inventiveness, never once missing a step.
AFTERPARTY should change that, should have not just critics but fans everywhere out in the streets, waiting for Gregory's next dazzling feat. This novel is smart, thrilling, funny and enormously entertaining. The cover boasts a blurb from William Gibson and you can see some strands of his DNA in Gregory's world-building here, in the novel's 100-proof blend of the hard-boiled and hard science.
In the near future, chemical "printers" are widely accessible and cheap potions circulate for every conceivable mood or identity via the "glories of the DIY smart-drug revolution. Any high school student with a chemjet and an Internet connection could download recipes and print small-batch drugs." Frat boys connect with their dealer so they can hold a "Gay for a Day" party; "Paintball" gives users short-term synesthesia.
A dangerous new drug emerges onto this scene, offering not just a taste of the divine, but a personal deity. "Numinous" creates a sense of direct communion with God (however S/He is imagined). Withdrawal is always a bitch — and worse yet for these chemically anointed — not just a drop from the high, but also alienation from purpose and meaning.
Lyda Rose — a former chemist once in the business of remaking minds, but now confined to a rehab center for crimes the novel covers up and doles out slowly — recognizes this drug. Her former startup tested a variant, only to have one partner dose the whole team. Lyda's got an angel always in the corner of her eye, offering advice (or criticizing), and she knows how dangerous this stuff is. So she finagles her way out, vowing to track down her former partners and stop production.
Lyda, then, is a fucked-up Philip Marlowe with a Ph.D., deeply damaged, cynical and on the side of right. AFTERPARTY works brilliantly as noir, the detective tracking through the criminal underbelly and the upper class, teasing out a dark conspiracy while also tracing (and trying to redeem) her own complicated past.
It's also a kick-ass extrapolation of our own chemical romances and the latest discoveries in cognitive science. Its characters, on the margins and central to the action, display both Gregory's inventiveness and his empathy: a dangerous drug kingpin in a burqa, a Snowden-esque former intelligence operative whose pattern-seeking is hyper-realized through her addiction; a cowboy assassin who emerges as a dominant personality of an apartment-dwelling rancher (you'll just have to read it). And the concepts aren't mere window-dressing — Gregory casually weaves in incisive reflections on how selves emerge from consciousness, how the mind seeks meaning, how belief and faith might work.
And yet AFTERPARTY resists the somber grimace of Important Ideas; this author is clearly having so much fun:
"I'm just curious," Ollie said.
"Just curious? That's a bullshit phrase."
"It's a simple question. How long—"
"No, it's a signal that bullshit is about to follow. It's the hat bullshit puts on before it goes out to get the paper."
This novel made me think, but even more often it made me smile, and as often it made me care about what happened to its characters. AFTERPARTY is all rave: a high-energy, mind-blowing blast that further confirms Gregory's standing as one of the smartest, most dizzyingly acrobatic writers on the scene. —Mike Reynolds