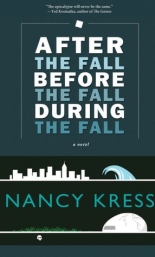 Yes, AFTER THE FALL, BEFORE THE FALL, DURING THE FALL is one hell of a long-winded title, especially for a novella of just under 200 pages. And no, sci-fi author Nancy Kress' latest is not three separate, self-contained short stories published together. Rather, the Tachyon Press release is an engaging, cautionary tale concerning the causes of our planet's demise and its outcome.
In the year 2035, the sole survivors of Earth's destruction live inside a vast Shell that provides them with regenerating survival sustenance. Fifteen-year-old Pete is one of the six born inside it. Like the others, he has been taught that during a time when ecological disasters were threatening the Earth, a race of aliens known as the Tesslies intervened, destroyed the planet, and selected survivors to live in the Shell and eventually repopulate Earth.
Later, after Pete and his siblings were born, the Tesslies provided them with machinery that allows individual members of the Shell to transport back in time long enough to make Grabs — that is, secure food, clothing and other supplies — before being whisked back into the Shell. Eventually, as the survivor's repopulation efforts fail, the Grabs have included young babies taken into the Shell and raised to maturity.
 
Earlier, in 2013, a brilliant university-based mathematician named Julie Kahn has developed algorithms that seem to predict the next in of series of seemingly random and mysterious kidnappings and robberies that have plagued the country and baffled law enforcement. She soon is working with the FBI in their efforts to discover who and what is behind these crimes.
But when a professor shares illegally obtained data with her, and is later arrested as a security risk, Julie finds herself on the run from the law herself. A year later, industrial waste has created mutations that are slowly killing off plant life on the planet and causing related ecological hazards — all hastening The Fall.
 
Kress bounces the narrative between the three main time periods, concentrating mostly on Julie's discoveries in 2013 and with Pete and the other Shell survivors in 2035. While time and circumstances make their worlds completely different, their personal problems are still familiar and ultimately human. Pete struggles with his adolescent rivalries for the affections of the female Shell survivors and the often violent jealousies that result; Julie deals with an unplanned pregnancy from an affair she had with one of the FBI agents.
Interspersed between these chapters are brief detailing of the cause and spread of the manmade mutations below the planet's surface that will eventually threaten all life. Descriptive elements are kept to a bare minimum, and as a result, the story moves rapidly, eventually tying the three periods together and revealing the true nature of the so-called Tesslies and their relationship with Earthlings.
 
Kress' characters are credible and consistent throughout. Ironically, it is this consistency that makes Julie's sudden insight into the Earth-based, regenerative faith of the goddess Gaia near the story's end seems so out of place. Nothing in this otherwise logic- and rationality-driven woman prepares us for this abrupt shift in belief.
 
Still, this minor lapse does not dampen the strength of this otherwise well-constructed and ultimately memorable story — a very impressive and obviously heartfelt work that can also serve as a fine introduction to this prolific author's body of fantasy and science fiction. —Rod Lott