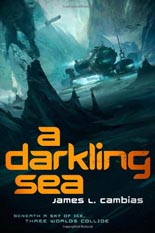 This may be his first novel, but A DARKLING SEA has such confidence in the telling that most readers will assume James L. Cambias is a seasoned pro. The novel is smart, tense, often funny and written with a simple clarity that belies the big ideas and the tricky tonal juggling act the author manages without breaking a sweat.
A classic story of contact — and misunderstanding — between species, SEA depicts a human scientific base deep beneath the ocean planet of Ilmatar. Terrans are examining — at a carefully-monitored distance, avoiding any interaction — the biology and culture of the large, vaguely-crustacean creatures who farm the nutrient-rich rifts on the ocean floor.
Distance is enforced by the policies set by the Sholen, a species whose own conflict-ridden past has led them to strict cultural regulations meant to manage their (extravagant) sexual impulses and aggression. They believe in a strict no-contact policy (which Cambias has elsewhere noted he developed as an analogue to the "Prime Directive") of STAR TREK, and "allow" Earth expeditions only insofar as the rules are followed.
The Terran scientists find this pretty damned irritating. So a puffed-up, self-important Frenchman with a world audience convinces one of the lab's technicians, Rob, to follow him out past the restricted zone. Rob starts filming as Henri sneaks near a conclave of Ilmatarans, who quickly discover this strange intruder. And, as Rob in horror keeps his camera trained on events, they pull the Earth scientist into pieces.
Cambias shifts points of view between characters and species, creating enormous empathy for each and every character. It's a difficult trick, but one of the novel's many strengths is its ability to casually, convincingly define perspective such that each action makes sense. And no one is really a villain (although clearly misguided, even terrible actions are undertaken). The characters (Sholen, Ilmataran and Terran) act from recognizable value systems which the reader quickly clues into. Cambias wrings a great deal of suspense — and, despite the horrific act that sparks the novel's escalating political tensions, a lot of social comedy — out of the misunderstandings between the species (or even within the species, between factions).
A DARKLING SEA is a sophisticated novel of how hard it is to understand difference. It is also a lot of fun. Cambias is an author to watch. —Mike Reynolds