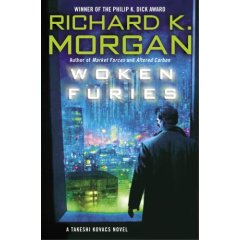 1. WOKEN FURIES by Richard K. Morgan
The third – and final, at least for now – novel in Morgan's Takeshi Kovacs body-swapping cycle brings our protangonist to his home planet, where he has to confront the remnants of war and ghosts from the past. Morgan is at the forefront of science fiction right now, along with Charles Stross and Jon Courtenay Grimwood, and he shows it off at full force here.
2. ACCELERANDO by Charles Stross
Originally serialized in Asimov's Science Fiction Magazine, the author of the superb SINGULARITY SKY and IRON SUNRISE takes another look at the future of man. While there are more ideas and theories in here than are necessarily comfortable in a book this short, ACCELERANDO is hardcore and not for readers afraid of technospeak. If you want to try it out, it's available for free on the Web.
3-4. PASHAZADE / EFFENDI by Jon Courtenay Grimwood
It's hard to include these books on a list of 2005's best, but I think it illustrates the absolute insanity of science fiction publishers. These awesome Raymond Chandler-style cyberpunk detective books set in a future Ottoman Empire were released in the UK starting in 2001 and, extremely limited U.S. releases notwithstanding, they haven't seen the majority of U.S. shelves until this year. Still, the books haven't lost any of their impact or appeal. Much like his earlier classics REMIX and REDROBE, Grimwood hasn't let us down yet. The two books he has released this year, STAMPING BUTTERFLIES and 9TAIL FOX, aren't widely available on these shores yet, and that is a crying shame. The third book in his Arabesk trilogy, FELAHEEN is just now out.
5. THE NARROWS by Alexander Irvine
A master of alternate history and the lives therein, Irvine takes a micro rather than macro focus in THE NARROWS and paints a stunning portrait of a man constantly pestered by outside forces who just wants to spend time with his family.
6. OLYMPOS by Dan Simmons
Simmons' SONG OF KALI is the scariest horror book that has no monsters. CARRION COMFORT and SUMMER OF NIGHT one-up the best themes of Stephen King, and his Hyperion cycle stood out as a beacon against derivative science fiction in the 90s. With ILIUM and the sequel OLYMPOS, Simmons mixes Shakespeare, Homer and post-singularity man with great results. A bit dense and sometimes a little too easy to figure out, these books nonetheless are science fiction from a different angle and a refreshing change of pace.
7. MARKET FORCES by Richard K. Morgan
Morgan does without trademark anti-hero Takeshi Kovacs in this one in favor of Yuppie "greed is good" executives who travel up and down the corporate ladder by means of morning commute MAD MAX-style auto battles on the freeway. While the symbolism might be a bit obvious, and the BONFIRE OF THE VANITIES plot might be seen as off-putting, they can also be seen as necessary evils and a means to which the reader gets to witness much automotive ass-kickery.
8. THE TRAVELER by John Twelve Hawks
Let's look at this book in Joseph Campbell/George Lucas terms: Reluctant hero? Check. Mysterious "force" that empowers some? Check. Hokey religion? Check. The list could go on forever. The enigmatic Hawks mines archetypes and stereotypes for a week of Sundays (and adds a generous helping of Big Brother paranoia), but THE TRAVELER is surprisingly fun to read. It moves at the right pace – quick – and the twists and turns are unexpected enough to provide some drama, even if the large shape of the novel is given away in the first couple of chapters.